Did Wired Editor Chris Anderson Plagiarize Wikipedia for His Upcoming Book?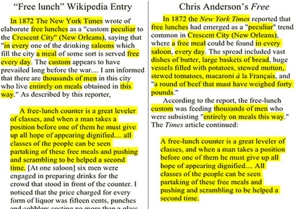 One of the very first things high school students learn nowadays is that Wikipedia should never, ever be considered a legitimate source for research. Maybe Wired editor-in-chief Chris Anderson was in high school before Wikipedia was a big thing, but at some point down the line, he should have gotten the speech about how plagiarism is wrong. If he did, according to some recent reports, it seems like it maybe didn't stick. Or, maybe he just got really caught up in the topic he was writing on. In his forthcoming book, Free: The Future of Radical Price, about the business benefits of free things, Anderson allegedly lifted several passages from Wikipedia and two other published sources.

After Virginia Quarterly Review writer Waldo Jaquith got a little highlighter-happy and pointed out large chunks of the book that didn't properly attribute sources, Anderson released an apology, citing production troubles as the cause of the oversight.

"I had the original sources footnoted, but once we lost the footnotes at the 11th hour, I went through the document and redid all the attributions ... In the case of source material without an individual author to credit (as in the case of Wikipedia), [I did] a write-through," he wrote. "Obviously in my rush at the end I missed a few of that last category, which is bad. ... I think what we'll do is publish those notes after all, online as they should have been to begin with. That way the links are live and we don't have to wrestle with how to freeze them in time, which is what threw me in the first place."

Hyperion, the publishing company behind Free, supports Anderson's explanation and promises the electronic and future versions of the book will be corrected.

Related Links:
List of the Day: 10 Writers to Follow on Twitter
The Virginia Quarterly Review: Chris Anderson's Free Contains Apparent Plagiarism
Wired.com

Got news tips for Paste? E-mail news@pastemagazine.com.

Others Tagged With