Documenting the Dylanologist: The Ballad of AJ Weberman Streaming Until Tomorrow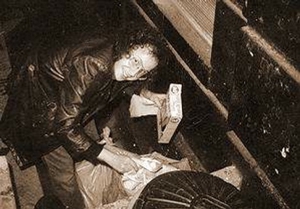 Bob Dylan fans may tend towards the passionate, but none come close to the level of superfan AJ Weberman, self-proclaimed Dylanologist and devoted Dylan stalker/trash-digger. Now, James Bluemel and Oliver Ralfe's 2006 documentary, The Ballad of AJ Weberman, is streaming on DailyMotion.com until tomorrow, offering a fascinating peek into the life of a man who has made the pursuit of Bob Dylan his life's work.

Thirty-five years after Weberman made headlines for following Dylan's trail throughout New York City, perusing his garbage and even teaching a class on "Dylanology," he revisits the streets he once prowled to explain his trajectory and retell his encounters with Dylan's life...including the time they ran into one another on the sidewalk and Dylan promptly assaulted Weberman.

Between taped segments of phone conversations between Weberman and Dylan, a varied cast of Weberman's associates appear to discuss their loyalty to him and the Dylanologist way of life. These characters seem right out of "Desolation Row," from Paulette, the woman who takes in Weberman when he has no home, to his enthusiastic former students, to musician and fellow Dylan-pursuer David Peel who joins him to perform a spur-of-the-moment composition, "The Ballad of AJ Weberman," outside Dylan's old house at 94 MacDougal St., and Weberman's former students remember incidents with Dylan himself.

The film does not shy away from the freaky or the marginal, and includes Weberman's personal struggles with his family and drugs, painted as the end results of a lifetime obsessed. But the detailed peek into Weberman's world will appeal to both hardcore Dylan fans and those who see him merely as a cultural icon; the Dailymotion stream has already surpassed 10,000 views. You can watch it here. Act fast, though, as it's only streaming until tomorrow. (June 30).


Feature: I've Got My Bob Dylan Mask On
Dylanology.org
BobDylan.com
Others Tagged With