Eddie Murphy has a New Movie Out Today. Who Knew?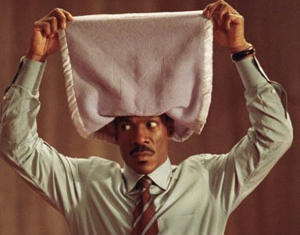 Eddie Murphy
is one of three actors in history whose collective films have passed $3 billion at the North American box office. Over the course of his career, his movies have had average grosses of more than $100 million apiece; only Tom Hanks surpasses him in lifetime gross, $3.52 billion to $3.46 billion.
Murphy also starred in
The Adventures of Pluto Nash
in 2002, a misbegotten sci-fi comedy that cost at least $100 million to produce. Astonishingly, it grossed just more than $7 million worldwide, less than
Gigli
. Although it's impossible to say for sure because budget figures are distorted by studios, the movie is often referred to as the biggest flop in Hollywood history.
Such polar extremes have come to epitomize the career of Murphy, who in the 1980s became a movie star of enormous international wattage. And yet there we were, earlier this week, scrutinizing a mysterious movie called Imagine That that turned up on the release schedule for this weekend.
BoxOfficeMojo.com listed it as opening in 3,000 theaters. A "fantasy comedy." Bankrolled by Paramount. On a prim June weekend. What could this thing be?
Sure enough, it's another family vehicle for Murphy, who saw still another family sci-fi comedy, Meet Dave, vanish from theaters with just $11.8 million last summer, despite a production budget of nearly six times that much. Box-office pundits suggest the same fate is about to befall Imagine That, which, anecdotally at least, we can't help but believe.
How could a movie star of such undeniable credentials fall so far? In Murphy's case, it has actually happened twice. After an initial winning streak that included 48 HRS., Coming to America and the first two Beverly Hills Cop movies, Murphy's career took a sharp nosedive in the '90s with movies like Beverly Hills Cop III and Vampire in Brooklyn. He was resuscitated briefly by The Nutty Professor in 1996 but quickly descended again with the arrival of Metro and Holy Man, which few people saw, let alone remember.
Since then, it's been sporadic:
Dr. Dolittle
and its sequel did nice business, as did
Daddy Day Care
, but that's in between major-budget misfires like
I Spy
,
The Haunted Mansion
,
Life
,
Showtime—the list goes on. (The Shrek
movies have no doubt inflated his net worth, as evidenced by the figures above, but it's hard to consider that franchise, however huge, as a surge in Murphy's career.)
As with many American movie stars, Murphy's schizophrenic popularity is due at least partly to his often-combative public persona. He famously walked out when Alan Arkin upset him for best supporting actor at the Oscars in 2007 (he was favored for Dreamgirls), and sordid tabloid speculation involving a former Spice Girl and paternity tests could not have helped his marquee family appeal.
But even brutal downfalls like Tom Cruise's were never marked by such extremes. Eddie Murphy has long been hailed by fans as one of the most inventive comedians of his generation, and his career has certainly been unique. As you promptly forget about Imagine That's existence this weekend, it might be wise to pause with due respect for its star, since, if history is a guide, we probably haven't seen the last of him.