Elliott Smith's Sister Talks Selling His Car for Charity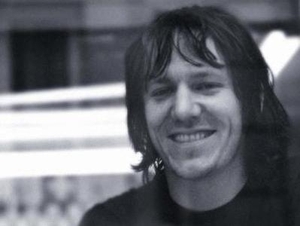 On an ordinary Wendesday, in an ordinary Craigslist posting, an Austin, Texas resident put a 1999 Volkswagen Passat up for sale. She asked for $4,000, noting that the car was a bit tired and expensive to maintain but that the entire $4,000 would go to the SIMS Foundation, a local non-profit dedicated to promoting the mental health and sobriety of Austin-area musicians. The woman wrote that the car had belonged to her brother, who had been a musician himself before his death, and said rather cryptically, "This car means the world to me, and has a very interesting story to tell. Music buffs might get a kick out of knowing who used to own their 'new' car."

By Thursday afternoon, the woman was inundated with inquiries from those very music buffs. She had e-mails from only a few Austinites, and 70 more from people in New York City, Los Angeles, Chicago and Nashville. People were booking flights and planning road trips to Austin from the coasts to buy the little sedan. Word had gotten out: This was Elliott Smith's car.

The late musician's sister, Ashley (who asked not to have her last name published), 32, had been driving the car for the past five years. Enduring overpriced repair fees and her parents' persistent counsel to invest in something cheaper, she reasoned that the nostalgic value of the car was compensation enough. She didn't want a new car. She wanted to keep driving Elliott's car.
But at the start of this year, Ashley's parents gave her a hand-me-down that was cheaper to maintain, forcing her to finally do something with her brother's wheels. "It's taken me this whole six months to get my head around the fact that I would have to parting with it," Ashley tells
Paste,
"'cause I'm just really attached to it. I know it's stupid; it's just a car."
But it's more than just a car. Cars hold poignant memories for all drivers, many of which are rooted in the songs that ring in the speakers as we drive. For a musician, this notion couldn't be stronger.
"He would like to listen to his songs before he did any kind of final mixing in a car, because, you know, music sounds better in a car," remembers Ashley. "The music's all around you and you can rock out in your own little world in there. So he used to put his rough mixes in the car and listen to them and see how he liked them, and I just have really fond memories of driving around with him and having him listen to stuff."
They would drive around Los Angeles, his premature tracks streaming through the speakers. Sometimes he'd be driving, sometimes she would, sometimes another friend would. "I just remember this one time," she laughs. "He was in the passenger seat and this drum fill came on to one of the songs and he shushed everyone in the car, putting his hand up, like 'Here it comes! Here it comes!' And all of the sudden he was just
air
drumming. He had a good time in that car."
She remembers the first time she saw him driving it. "He wasn't a big material-possession guy, but you could tell he was excited about that car when he first bought it." She was living in New York and had flown to Los Angeles to see Elliott for Thanksgiving. Thanksgiving was their holiday. She and Elliott were two of a handful of half-siblings; Ashley and Elliott and a third brother shared a mother, and Elliott had two half-sisters on his father's side. It was rare to get the whole family together, but Ashley and Elliott always had Thanksgiving. And there he was, outside of the airport, in his new Volkswagen.
"I've got a lot of good memories and some pretty funny memories of Elliott in the car, so driving it every day and having it around just kind of made me feel good, or made me feel
better
," she says.
When it finally came time to part with the thing, Ashley knew she wanted to use the sale to make a donation of some kind. She decided on SIMS, which boasts the goal of "Helping Austin musicians stay in tune." Although Elliott didn't have direct ties to Austin, she has many friends who are musicians locally and knew that the intentions of the organization would have pleased her brother. "I try to pick charities that have something to do with his life or that would be relevant to his life if he were alive still," she says. "This just seemed like it fit."
That settled, Ashley struggled with whether or not to use Elliott's name to help sell the car. "I thought that if I did, I could get more money for charity, but at the same time it just felt gross to me. I wanted to avoid that," she says. So she omitted his name from the Craigslist posting, and opted only to let Elliott's die-hard fans in on the secret via his Sweet Adeline
fan site
. "In the event that someone who the car would mean a lot to is out there and wanted to buy it, I'd hate for them not to have had the chance," she explains.
It wasn't a day before the rest of the internet got ahold of the news, and suddenly there was a buzz about what had become a musical artifact. Ashley was disappointed that the sale had turned into a spectacle. "It was not intentional," she says. "But if it does help sell the car and get money for SIMS, then I'm fine with it. It's just its not what I was setting out to do."
She hopes to give the car to someone who will love it and be moved by its history. "I would like to honor the first people who contacted me about it. [There's] this kid in Tennessee. He is a fan of Elliott, and his parents are too, so they're thinking about helping him out and buying the car." She also says that if someone offered much more than $4,000, she might take it for SIMS' sake. "The money raised for charity is really important," she says. "It's not about the piece of steel."
Ashley's philanthropic effort in this case is not unprecedented. After his death, Smith's family set up the
Elliott Smith Memorial Fund
, which donates to
Outside In
, a support center for homeless youth in Portland, Ore., and Los Angeles-based
Free Arts for Abused Children
. The Memorial Fund is modeled after the foundation that Elliott himself was in the middle of launching when he died, through which he was planning to donate a percentage of the sales from his upcoming album to similar charities.
"He was just immensely, immensely compassionate and giving, and felt really guilty when he would benefit off of something that he felt like other people could use a lot more than him," Ashley says.
Related links:
Review: Elliott Smith: From A Basement On The Hill
Donate to the Elliott Smith Memorial Fund
Donate to the SIMS Foundation
Others Tagged With