Five of Our Favorite Nonsensical Wilco Lyrics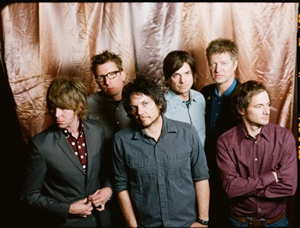 Upon close examination of choice Wilco songs, Jeff Tweedy's sanity comes into question. Or maybe the man's just deeper than the rest of us. Regardless, he has a tendency of throwing around random phrases pretty haphazardly, and as a result, Wilco songs don't exactly have a reputation of being crystal clear. As it turns out, the members of Wilco have written many of their songs collaboratively, using an old surrealist word game that allows each member to type a line on the typewriter while only being able to read the previous line. This explains a lot. At any rate, Tweedy and Co. will always keep us guessing when it comes to the meaning of their songs. Here are five lyrics that we take a stab at.
The Lyric:
"I know you've got a god-shaped hole / You're bleeding out your heart full of soul."
The Song:
"Misunderstood" from
Being There
Our Take:
This seems to be about a lack of spirituality leading to depression and emptiness. But then again, at the end of the song, Tweedy repeatedly screams, "I'd like to thank you all for nothing, nothing, nothing at all." The implied double meaning of this simple phrase might change one's interpretation of the earlier passage. On one level, it's just the common American phrase we all use so much when someone doesn't come through—"thanks for nothing." But beyond this I get a sense that Tweedy also means "nothing" in a more positive, Zen sort of way—like the "mind of winter" in Wallace Stevens' poem "
The Snowman
"; or more popularly, what Ray should've been thinking at the end of
Ghostbusters
. The attainment of nothingness—that thus leads to the extinguishing of one's soul and the cessation of suffering—being the ultimate goal. I think the two meanings are battling it out, loudly, in Tweedy's head. By song's end, though, there's no real clue as to whether he's reached a conclusion.
The Lyric:
"Take off your band-aid, 'cause I don't believe in touchdowns."
The Song:
"I Am Trying To Break Your Heart" from
Yankee Hotel Foxtrot
Our Take:
Tweedy or whoever the speaker is in this song has been through so many disappointments in life that he no longer has faith in the significance of big moments or large-scale successes, or even capital H, Happiness. So he's saying tear off that band-aid and feel the sting... revel in it. The pain might not be as pleasant as all the good stuff, but it's real; it's what you learn and grow from
.
Our Other Take:
We don't even want to know what kind of person doesn't believe in TDs. Certainly not an earthling.
The Lyric:
"Please beware the quiet front yard / I warned you / Before there were water skies / I warned you not to drive / Dry your eyes, you poor devil /
Are there really ones like these? / The ones I dream / Float like leaves / And freeze to spread skeleton wings / I passed through before I knew you."
The Song:
"She's a Jar" from
Summer Teeth
Our Take:
Not sure on this one, but the language is beautiful and haunting. Tweedy is using words here like an impressionist's
brush strokes
—not so much to evoke meaning, but a deep, deep feeling of sadness and mystery.
The Lyric: "
I assassin down the avenue."
The Song:
"I Am Trying To Break Your Heart" from
Yankee Hotel Foxtrot
Our Take:
First of all, "assassin" is not even close to being a verb. Example: "Did you see the news? He totally assassined that girl and got away with it." Doesn't work. Second of all, even if it was a verb, shouldn't that be something more reserved for dark alleys and empty warehouses? We feel like if you just assassin down every avenue you find, you're likely to get caught.
The Lyric:
"I'm serious / You'll see / I'm working on my abs / I'm working on me."
The Song:
"Kicking Television" from
Kicking Television: Live in Chicago
Our Take:
Well, it appears Tweedy is hitting the gym. Or at least he's making fun of those of us who do. He even vows to "stop shopping, even, stop buying things" later in the song. While there's a possibility that Tweedy is extolling the virtues of a healthy physical regimen, we're pretty sure he's just having a laugh.
Others Tagged With