Getting to Know... School of Seven Bells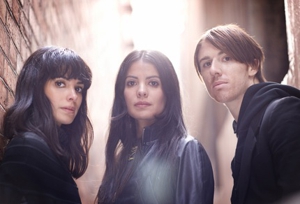 A few years ago, Benjamin Curtis was mining a sprawling rock-revivalist undertone with Secret Machines, the band he founded with his brother Brandon and cousin Josh Garza. But after witnessing the hypnotic experimentation of tourmates On!Air!Library!, Curtis enthusiastically ventured into an intense collaboration with the group's identical twin vocalists, Claudia and Alley Deheza.

"There was just a vibe between two musicians that is rare," Curtis says of his first exposure to his future bandmates. "Watching them every night, I fell in love with it." The three musicians soon formed School of Seven Bells, and that love served as the conduit for their left-field 2008 debut, Alpinisms. Brimming with new age mystique and pacifying sonic drones, the album fused the two seemingly disparate previous projects into a psychedelic excursion anchored by beautiful, winding melodies and entrancing synth backdrops as bright and buoyant as a wall of clouds. Curtis recently spoke with Paste about forming the new band, the perils of playing with family members and what we talk about when we talk about shoegaze.


Paste:
The School of Seven Bells refers to a fabled academy for thieves in Columbia. How did you come to name your band after this mythological institution?
Benjamin
Curtis:
It was Alley's idea. She had heard about it and the mythology grew in her mind. It meant a million different things to her. It's just a really cool name and I can't believe it hadn't already been taken. [
Laughs
]
Paste:
Understandable. So none of you actually has any pick-pocketing experience?
Curtis:
No, I'm way too scared for that. And I don't know if I've ever been pick-pocketed because I'm really bad at losing things all the time, so I always think I've been pick-pocketed but what I've lost always turns up in some random place.
Paste:
You met vocalists Claudia and Alley when they were in On!Air!Library!, touring with you when you played with Secret Machines. What initially inspired the collaboration between the three of you?
Curtis:
On!Air!Library! was a really cool band, but in particular, the communication between the two of them on stage was amazing. Alley had mentioned this idea for School of Seven Bells then, where she had a vision of a Canterbury-themed prog rock revival supergroup with ex-Gong members. I said, "That sounds insane, and if you ever want to do that, to call me." That idea stayed afloat and over time we started making music here and there. Skip to 2007 and we had a few songs that were very exciting to me. It seemed like uncharted territory, personally, and I knew that the time was right to change.
Paste:
What have you found to be the biggest difference between playing in School of Seven Bells and Secret Machines?
Curtis:
The process is totally different. The dynamic is similar because we're really close in School of Seven Bells, and in Secret Machines we were very close as well. The camaraderie is the same, but the process is less predictable and it's just a different way of working. Alley and Claudia are from a different planet, but in the same solar system musically, so we enhance what each other do well.
Paste:
That's interesting that you said that both bands are very close as you previously played with your brother Brandon before and now you're playing with a pair of identical twins. Do you think it's coincidental that you're constantly playing in a family environment?
Curtis:
I'm a very familiar person, and I'm drawn to that anyway. I don't know why it keeps coming up in my life, but I do like working that way. I like the instant communication, and I think by now in my life I'm good at navigating those weird, unspoken battles that you can fight with siblings. The one problem is that there's no politeness, which you have with someone who you don't know so well, when you're on your best behavior. When you're with your family, all bets are off. You can say anything and you can cut someone down if you're not too careful. But it's definitely terrific in a way and more rewarding in the end.
Paste:
I'd read that you write lyrics first and then build music around them, and that this is a fairly integral part of your musical process.
Curtis:
This isn't true all the time, as we're hesitant to make a rule for how we work, but it seems to be a way that works really well for us. We found that with recording and writing the lyrics and vocals first without too much instrumental fat, we could go anywhere we want and determine the world that the [lyrics] live in. It's easy to play an instrument completely out of habit, and just doing what you know how to do. Case in point: the same bands that keep making the same record over and over again. If there's a vocal arrangement and there are words on it, you can't just do what you always do on the guitar or keys. You have to work around this vibe. All in all, it made us write something that was unfamiliar to us and obviously more satisfying in the end.
Paste:
The genre of shoegaze comes up quite a bit when the media describes your music, but I'm not sure I hear it. How do you generally define your style?
Curtis:
I know the things that we keep doing: We really love rhythm, we really love atmosphere and we really love melody. We try to turn all of those things up to ten. As far as this shoegaze thing goes, I don't even know what that means. It's funny, because I was with a friend the other day who hadn't seen a video we had made, so I put it on Youtube and we were just laughing at all of the comments. There was this one comment that said "SHOEGAZE REVIVAL" in all caps, and we were just like, "What does that mean?' What are we reviving and what was shoegaze?" I can speculate the touchstones are singing women, guitars, synthesizers... maybe that's the common ground, but other than that, I'm really not sure what the connection is.
Paste:
At least a third of your album, including tracks "Face To Face On High Places," Wired for Light," "Chain," and certainly "Half Asleep," mention sleeping and dreaming. Does your band suffer from insomnia or is there a different significance at play?
Curtis:
[Sleep] is something we discuss a lot. You spend almost a third of your life doing it. It's a theme that we weren't aware of until after the album was done, when we realized the thread we had put together. We all had so many things in our lives the year that we spent writing that album, and I'm sure you know that if you're moving or have a changing job, your sleep is totally disrupted and you end up having crazy dreams that can mean a lot to you. They're all interesting windows for where you're at in life. That time represented radical change for all three of us in many, many ways, so our sleep was seriously disrupted. [
Laughs
] I guess that was the best thing to write about.
Paste:
I'm sure sleep is never a guaranteed quantity when you're on tour.
Curtis:
No, no—it's a commodity.
Paste:
Speaking of touring, you recently wrapped up playing with Black Moth Super Rainbow. Both of your bands are extremely laid back and chill. How was the audience response?
Curtis:
We really complemented each other. I don't think we heard one person say, "What was that show about and why were those bands playing together?" even though we're so different. One thing that we have in common is that when we play live, it's a truly immersive and psychedelic experience. That was such a great tour that I regret that I couldn't go to it myself. Everyone looked like they were having a good, far out time.
Paste:
Alpinisms has a fairly heavy bass in electronica. Was it difficult translating your studio sound to the stage?
Curtis:
For a while we spent a lot of time taking the things that we programmed and getting people to fill it out. If there were an electronic beat, we'd have a drummer play it. The choice to have our music that way was an aesthetic decision, so we started leaving things as they were. If it were programmed, we'd leave it that way on stage, and if we'd played it, we'd play it on stage. It became way more honest. Coming from a more traditional band background, it was a strange switch onstage, but it's a lot of fun and a liberating way to play.
Paste:
Listening to the album, it's not directly explicit, but there seems to be more than a few religious and spiritual allusions of varying origin. What's your religious background? Do you consider yourselves religious, or was this just something that bled through?
Curtis:
That was one thing we all had in common. All of three of us come from very religious families. We were all heavy churchgoers when I was a kid, and my Dad preached at a church he had started with some friends. And it was the same with Alley and Claudia. Their parents were deacons in a really far out church down in Florida-- they went to church five times a week for a very long time. It's something we can relate to, coming from that world and being in radically opposite places in our adult lives. We discuss it, and it definitely comes out and affects you, not always in a positive way—but it makes you stronger.
Paste:
What does the School of Seven Bells have planned for the future?
Curtis:
We're starting to record our [new album]. We've written so much music on the road and it's going to be done quickly. It's on full blast for us and we're trying to catch it.
Listen to "Prince of Peace" from School of Seven Bells' Alpinisms:
Others Tagged With