We Feel Fine: Online Artwork Documents a Web of Emotion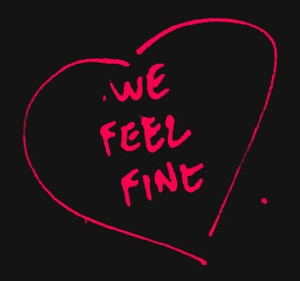 I feel like my heart is in the right place and things may be going in a good direction.
I feel I just have endless questions.
I feel I can relate to Obama.
I feel gassy.

This is just a sampling of what you'll find at We Feel Fine, an online art project that pulls phrases from blogs all over the world to gauge the general emotional climate of the blogosphere.

Every few minutes, the program, created by artists and computer scientists Jonathan Harris and Sep Kamvar, sifts through new posts worldwide for occurrences of the phrases "I feel" and "I am feeling." It collects the sentences that contain these words and scans the rest of the blog post for photos and for information about the blogger: age, gender, location. Finally, We Feel Fine tracks down the weather in the location where the blog was written at the time of the post.

Harris and Kamvar present these feelings at WeFeelFine.org in an aesthetic triumph of six movements. Each movement offers a different understanding of the way people around the world are feeling.

Click "Madness," for instance, to see vibrantly colored dots buzzing and bumping around a black screen, coded by color and size to represent the type of feeling (bright colors for positive ones, dark colors for negative), and the length of the sentence. When you scroll over the dot, the feeling and location appears: "phillippines | fresh," "japan | emasculated," "us, virginia | guilty" or simply "hot."

Or, click "Murmurs" to see a scrolling list of the full sentences. "I feel like a pretty lucky kid," writes a 19-year-old, in Grove City, Ohio, where it was cloudy. "I feel as though the ride has evened out, coming to an end," writes someone in Massachusetts. Or, writes an anonymous blogger, "I feel myself ballooning, but well, good, food is love." The program collects around 20,000 sentences a day, which amounted to 7.5 million feelings in just the first year and a half of the project, which launched in 2005.

"Montage" pulls up any images that correspond with a sentence, further personalizing these floating feelings with charming faces or with startling juxtapositions. "Mobs," "Metrics" and "Mounds" are clever pictographs that show emotional trends around the world. At the time of this writing, for instance, the most common feeling around the blogosphere is "better."

"I do this because I think that people actually have a lot in common," said Harris in his talk at the TED (Technology, Entertainment, and Design) Conference in March of 2007. "I think people are very similar, but I also think we have trouble seeing that. As I look around the world, I see a lot of gaps, and I think we all see a lot of gaps. We define ourselves by our gaps: language gaps, ethnicity gaps, age gaps, gender gaps, sexuality gaps, wealth and money gaps, education gaps, religious gaps...but I think that actually despite our gaps, we really have a lot in common."

Now almost four years old, We Feel Fine is still a captivating visit. More than a trend site, this work will continue to be interesting for as long as people continue to feel, or at least as long as we continue to hook words onto those feelings and cast them out into the web for all to see. As Harris and Kamvar put it, We Feel Fine "will grow and change as we grow and change, reflecting what's on our blogs, what's in our hearts, what's in our minds."

At only 30, Harris is the creator of a number of equally compelling projects. The Brooklyn-based virtuoso's portfolio is full of works that use tools of digital art in an eager quest to make sense of the nuanced human heart. These works range from epic photo travelogues to an exploration of the world of online dating, also co-created with Kamvar.

Related links:
WeFeelFine.org
Watch Jonathan Harris discuss We Feel Fine and other works

Got news tips for Paste? E-mail news@pastemagazine.com.

Others Tagged With