Bing: The Next Big Search Engine?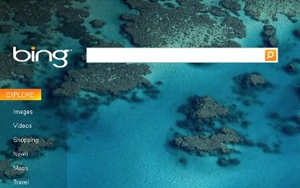 In an attempt to divert cursors away from Google's search engine and onto Microsoft-owned territory, Bill Gates' empire pulled out a big gun called Bing. The replacement for Microsoft's Live Search product was unveiled two weeks ago after investing about $100 million in ad campaign dollars, and it's generating quite a buzz.
But Bing's got broader ambitions than just playing search-engine rival to Google. It touts itself as an aid to "decision making," and its
virtual tour
boasts of its assistance in booking flights, finding the best freeway to drive on and shopping efficiently online.
It certainly wants to look distinctive from Google. Unlike Google's solid white homepage, Bing's search background is a regularly rotating landscape photo that is actually reminscent of Gmail's scenic
Themes
options. (Maybe it's hard to be completely distinctive from Google after all.) Hover your cursor around the screen and little facts about the background pop up.
Others Tagged With