My Morning Jacket's Jim James to Release George Harrison Covers Record as Yim Yames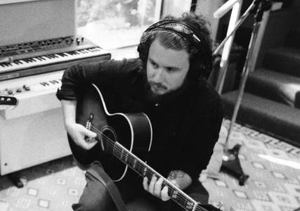 In the realm of covers records, some artist pairings are less obvious than others. Remember when that young, blonde actress took on the work of the gravelly-voiced rocker? Didn't really see that one coming. There are other moments, however, when modern musicians have the sense to trace their sonic lineage to an appropriate root. Jim James covering George Harrison seems to constitute one such example. The My Morning Jacket frontman, under the moniker Yim Yames (yeah, we don't really get it either), will release the 6-song EP, Tribute To, this August.
Upon the release of this covers record, we're hoping to wrap ourselves in a warm-and-fuzzy blanket of reverb that is the lush sound James shares with his inspiration. And judging by the dreamy vocal-layering on his version of "Behind That Locked Door," already available for listening, looks like James is right on track. The majority of the source material for Tribute To comes from Harrison's triple-album opus, All Things Must Pass, though two tracks are pulled from the Beatles' catalog: "Long, Long, Long" from The White Album and "Love You To" from Revolver, to be exact. Aside from James' luminous voice, the record includes little else than acoustic guitar.
Tribute To
drops Aug. 4 on
ATO
.
Tracklist:
1. Long Long Long
2. Behind That Locked Door
3. Love You To
4. My Sweet Lord
5. Ballad of Sir Frankie Crisp (Let It Roll)
6. All Things Must Pass
Others Tagged With