Just How Many Versions are There of Where The Wild Things Are? Karen O's Seen Many.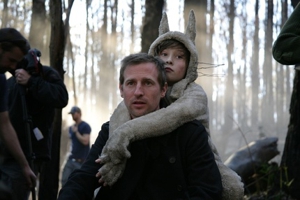 For the past couple years, covering Spike Jonze's forthcoming Where The Wild Things Are has simply been the wolf's pajamas, as writers have faithfully chronicled the film's ultra-delayed release date, director-and-production company squabbles and test screenings that apparently scared the bejesus out of small children. It's no surprise, really. There's a ton of grown-up kids out there peeing their pants in anticipation of its eventual release, and we're no exception. Judging by the film's Arcade Fire-y trailer and the creative force behind it all, Wild Things looks like it'll be stunning when it finally does hit theaters.
But apparently there are more than a couple versions of this movie.
Yeah Yeah Yeahs
' Karen O, former Jonze lady-friend and co-composer of the film's score, recently told the London
Times
(perhaps in hyperbole) that she'd seen the flick "13, 14 times, but like 12 different versions of it." It makes you wonder where all these will turn up (
NYMag.com
predicts a DVD stocked with extras), and how the final cut will actually pan out.
Speaking of Miss O, her contribution to the film is yet another thing to get excited about. Just don't expect to hear a Yeah Yeah Yeahs album. "The music differs from Yeah Yeah Yeahs in that it's tailored around Spike's vision. We're trying to evoke th music that would appeal to the child in anybody, and something that kids also really love," she informed the
Times
.
While you continue to wait on the
Wild Things
, you can read about its novelization
here
, or check out this hilarious (and mildly cruel) clip of Spike Jonze teasing a little kid with one of the monster masks:
The movie should make its way to theaters Oct. 16 (fingers crossed).
Others Tagged With