New Order and Blur Members Form Bad Lieutenant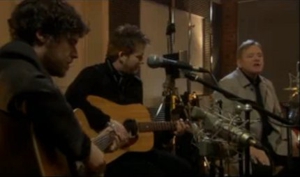 For those who mourned the final break up of New Order in 2007 and still cling nostalgically to Joy Division's final album Closer, a new source of solace can now be turned to. A collaboration among the members of the two bands, along with Blur's Alex James, has spawned a project called Bad Lieutenant.
Bad Lieutenant lineup includes lead singer
Bernard Sumner
and drummer Stephen Morris of Joy Division/New Order, guitarist Phil Cunningham of New Order and bassist James of Blur, according to the BBC. The band already has an album recorded that is set to be released in October, accompanied by a tour and numerous music festival stops.
To get an early taste of what Bad Lieutenant is all about, sample the live footage of the band performing a track called "Sink or Swim":
Related links:
Others Tagged With