Mastodon Unveils Custom Vans, Paste Demands More Musical Product Endorsements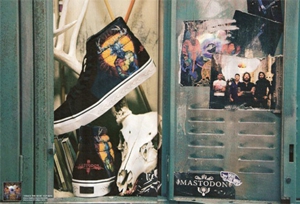 If you thought that custom edition Vans were strictly the purview of pop-punk bands, think twice. Think three times if you need to. An ad from this month's issue of
Decibel
(pictured above) shows a pair of Vans emblazoned with the man-deer-demon from the cover of Mastodon's 2006 tour-de-rock,
Blood Mountain
. Now you'll have some very metal footwear for your own epic quest to find the Crystal Skull. No word yet on whether the deer skull will be included or if it's one of those pre-order promo dealies.
This got us thinking. There's a lot of opportunity for bands to expand their brands in, uh, tasteful ways that reflect their music and audience. In fact, we've been cooking up some commodities along those very lines. Coming (probably not) soon to a fine record store near you,
Paste
presents an exclusive first look at the catalogue of band product endorsements that need to happen:
Belle & Sebastian's DIY Sew-On Heart ($2.95)
You listen to twee, so everyone knows you wear that thing on your sleeve anyway. Be the insufferable romantic you were born to be and show the world!
Lil Wayne's Codeine Chug ($7.99)
Ready to slow your roll just like Weezy? Now you too can make stream-of-consciousness word associations when you slam down 12 ounces of his patent-pending codeine/promethazine grape soft drink. Buy now and Mr. Carter will throw in a guest verse on your next song, free of charge! (Side effects may include late-career Autotune dependency and the sudden desire to collaborate with
DJ Khaled
.)
The Decemberists' Limited-Edition Peasant Blouse ($32.95 or equivalent in Pounds Sterling)
Scenario: You're fresh out of your M.A. program in 17th-century European literature with no practical application for your degree of choice. You may not be able to find employment outside of your local Renaissance Fair, but at least you'll look the part in this formless overshirt that'll have you saying, "Oh, Valencia!"
Vampire Weekend's Lambswool Oxford Sweater ($49.95)
Perfect for grads and undergrads looking to recapture the magic of lounging on the quad, leering at coeds and booty calls in Cape Cod, all on your parents' dime! (Note: May become uncomfortable and slightly annoying after repeated wearings.)
Metallica's Whiskey In The Jar ($24.99)
For the thrash-head in your life: Metallica and Jack Daniels are proud to present the first run of their exclusive 140-proof sour mash, packaged in a handsome unlabeled mason jar. Exit light, enter blackout nights baby!
Others Tagged With