Michael Moore Sends Volunteers into Movie Aisles During Interactive Trailer for New Documentary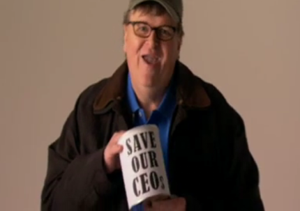 This past weekend, Michael Moore's publicity stunt for his new economic documentary had volunteers panhandling for change in theater aisles to "save our CEOs." We hope you weren't planning on saving those extra dollars for some Sour Patch Kids.
Michael Moore has never been one for subtleties. His jarring documentaries have engaged and enraged for two decades, and now he's channeling his penchant for controversy to promote his new
documentary
about the global economy, bringing his signature in-your-face style (and a couple of jingling coin jars) to cinema aisles.
After airing a sarcastic, faux PSA-style teaser trailer asking moviegoers to donate to help fellow Americans by donating, Moore's minions filled select theaters wearing t-shirts and holding jars emblazoned with "Save Our CEOs," as captured in this
Washington Times
photograph
.
Although the documentary still lacks a name, the project has been on the lips of haters and devotees alike after the 2008 Cannes Film Festival, when
the announcement
of a new Moore project set tongues wagging.
Check out the trailer below:
Related links:
Others Tagged With