Wilco: Wilco (The Album)/Son Volt: American Central Dust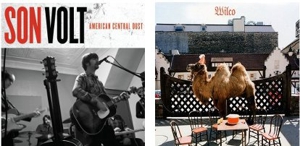 Stream Wilco's Wilco (The Album) in its entirety here.

--


Former bandmates travel familiar territory




Wilco: Wilco (The Album)

[Nonesuch]

74/100




Son Volt: American Central Dust

[Rounder]

61/100




Admittedly, a joint review of the latest albums from Wilco and Son Volt is a bit unfair. It's been 15 years since the two bands rose from the ashes of Uncle Tupelo, and both quickly left their progenitor behind in terms of musical style, lyrical maturity and commercial success. No matter how influential Uncle Tupelo was (and that's certainly debatable), the band released only four albums in its seven-year history. Escaping its shadow should've been easy for frontmen Jeff Tweedy and Jay Farrar.

But for those of us who came of age during the Uncle Tupelo era, the identities of Wilco and Son Volt are forever linked. Comparisons are as inevitable as those of siblings in the same class in school. Despite affinities for one or the other, we follow their very different careers jointly.


Jay Farrar jumped out to an early and commanding lead with Son Volt's brilliant debut, Trace, which displayed a depth noticeably lacking on Wilco's debut, A.M. "Windfall," the lead track from Trace, was a song for the ages and may still be the best track either band has produced. At the time, Farrar was simply a better guitar player, vocalist and songwriter than Tweedy.


But Wilco answered with the epic, two-disc sophomore release Being There. With dissonant psychedelic rock, Beatles-caliber melodies and Exile on Main St. swagger, the album presented Tweedy as an artist to be reckoned with, one with great ambition and growing talent. Wilco continued to mature and explore different aspects of its sound with each subsequent album: There was the shimmering synth pop and underlying darkness of Summerteeth, the experimental deconstructionist mélange of Yankee Hotel Foxtrot, the hushed introspection and hypnotic kraut-rock of A Ghost is Born, and the surprisingly straightforward, emotionally naked stroll of Sky Blue Sky.




'Meanwhile, by the time Son Volt's third album Wide Swing Tremolo rolled around in 1998, critics and fans had tired of Farrar's lack of artistic progression, a feeling heightened by the comparisons to Wilco. While all three albums were solid, the songs were largely interchangeable. Many listeners began to feel they'd heard all there was to hear from Jay Farrar—the same stark, restrained and downtrodden eulogies to middle America borrowing heavily from traditional country, folk and roots rock. Farrar put his band on hiatus and released several uneven solo albums before resurrecting the Son Volt name in 2005. With a new lineup, the politically charged Okemah and the Melody of Riot featured a heightened urgency and expanded Farrar's sonic palate. The Search explored even more vast musical terrain, adding organ, piano and horns to melodic structures we hadn't yet heard from Farrar.


Now, both bands have returned with summer releases that put their respective evolutions on hold, in favor of revisiting past territory.


On Wilco (the album), the band evokes sounds from its entire catalog while mostly continuing in the same angst-free vein of Sky Blue Sky. The opener, "Wilco (the song)," is a love letter to fans: If times are tough, put on your headphones and let Wilco love you, baby. The song's infectious pop recalls Summerteeth, though the lyrics are only possible from a rejuvenated Tweedy. "One Wing" is a melancholy number ("One wing will never fly / Neither yours nor mine / I fear we can only wave goodbye") that would be at home on Sky Blue Sky. "Sonny Feeling" is an ambling rocker that sounds like it was lifted from the Being There sessions.




"Bull Black Nova" presents a murder ballad that could be the storyline sequel to Summerteeth's "Via Chicago" but is sonically more of a cousin to A Ghost is Born's "Spiders (Kidsmoke)."


The album is full of thoughtful, artfully crafted lyrics wrapped in memorable hooks that should stand the test of time. What's missing is the experimentation that was Wilco's hallmark until Sky Blue Sky. Tweedy has said the band wanted to use the studio as an instrument on this release, and if you listen closely enough, you can hear them subtly exploring. However, the songs are constrained to the three-to-five minute formula and are overlaid with a sheen that chokes their potential; this band works best when its members are unleashed to create the kind of jarring moments that made earlier albums unforgettable, if frustrating at times. The new album's biggest weakness is that it's too smooth, too much the same despite all its echoes of the band's disparate previous work. Perhaps Wilco is missing a little of the interpersonal dissonance once offered by the late Jay Bennett.


On Son Volt's new American Central Dust, Farrar retrenches and attempts to recall the simplicity and power of Trace. He summons familiar themes and characters: forlorn lovers, rustbelt workers, corrupt powers and the search for meaning. "Honky tonks and biker bars / Finding worth in this world / From inside a rental car" he sings in "Roll On," evoking the motif of "Windfall." The aching slide guitar of "Dust of Daylight" recalls Trace's "Tear Stained Eye." While American Central Dust falls short of Trace's heights, the album showcases Farrar's excellent songwriting, which is comfortingly familiar. It's also a little monotonous.


Farrar's strongest asset—his drawling voice—is also his biggest weakness, so distinctive and powerful that it constantly threatens to overwhelm the songs. Each tune competes for attention with that wonderful instrument. With Farrar's unchanging vocal delivery, this becomes a near-fatal flaw. Faithful listeners can predict the cadence and intensity, the rise and fall of each syllable. Combine that with predictable melodies (tap, tap, tap, drone / tap, tap, tap, drone) and the songs become hard to distinguish, making the album a bit of a chore to slog through, despite all the great songs.


Nearly 20 years after Uncle Tupelo's first release, both Jeff Tweedy and Jay Farrar have proven themselves as great American songwriters. Tweedy has clearly been the more restless (and satisfying) artist—the one constantly seeking new influences and excavating new sounds while exploring his innermost self and his world with unflinching candor. While Farrar has continued to mine familiar territory, at least he is digging in rich and fertile ground.

Listen to Son Volt's American Central Dust on MySpace.

Others Tagged With