David Foster Wallace Biography Gets Publishing Deal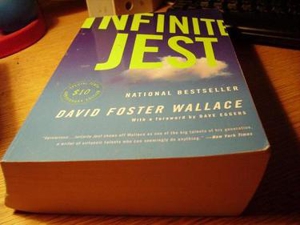 Since the suicide of author David Foster Wallace last September left the literary community reeling, two writers have tried to grapple with his oft-emotionally turbulent life and celebrated career in the form of biographies: D.T. Max, who penned a lengthy New Yorker article on the author after his death, and David Lipsky, who wrote one for Rolling Stone. As of last week, though, only Max's proposal earned a publishing deal, while Lipsky's remains unsold.
Max's proposal sold to
Viking Press
at auction and is slated to hit bookstores sometime in 2011. Max told the U.K.'s
Guardian
he plans to write the book "in the form of an argument" and he doesn't want it to run too long. "I didn't think it was the right way to tackle David Foster Wallace--it's a little paradoxical because he wrote such big books himself," he
told
the paper.
Lipsky's proposal for a biography, on the other hand, would be based on a series of audio tapes from when he joined Wallace on a book tour in 1996. An anonymous editor
showed concern
that turning that idea into a formal book might prove difficult, though it would allow readers "to kind of hear that incredible music again: the sound of David Foster Wallace at full tilt."
In other DFW news, patient readers began testing their literary stamina this past Sunday with the kickoff of the
Infinite Summer
project, in which folks will read, ruminate and weigh in on Wallace's brick of a 1,079-page novel, 1996's career-defining
Infinite Jest
. Readers will brave the novel with a goal of reading 75 pages a week for 93 days. Godspeed, y'all.
Others Tagged With