Sonic Youth Unveils Signature Fender Guitars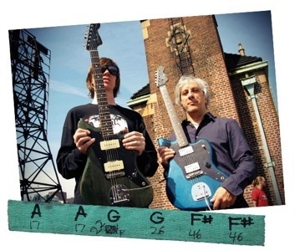 In the spirit of capitalism, the success of an artist is sometimes followed by some sort of product endorsement. The noisy experimentalists of Sonic Youth were the last people we'd expect to see this from, but fear not; they're not hocking any awful cologne or overpriced sneaks.
Lee Ranaldo and Thurston Moore, guitarists and founders of the iconic crew, are known for paring down their guitars to the bare necessities to find that volatile Sonic Youth sound. Enter Fender, who has swooped in and turned the pared-down instruments into the totally epic-sounding Fender Sonic Jazzblaster (from Ranaldo) and Jazzmaster (from Moore).
The guitars are manufactured to Ranaldo and Moore's personal specifications, from the location of the Fender signature (on the back of the headstock) to the custom-voiced pickups. Both guitars are electronically streamlined, with no rhythm circuit and a one-volume knob. "Lee and Thurston have always heavily modified their Jazzmaster guitars," says the description on Fender.com, "simplifying and stripping them down to the essence, leaving just a three-way switch and a volume knob." Although both guitars share similarities, Ranaldo and Moore's hand-tooled customizations of bridges, pickups, frets and the pickguard make them each unique. 
According to Moore and Ranaldo, they even used the prototypes in the recording of their new album,
The Eternal
. "We couldn't wait to get our hands on these axes," they say on the Fender site. "The prototypes of our Fender models have already been thrust into action during the recording of our latest album, and have already begun to acquire the scrapes and scarz of live performance." 
Check out how you, too, can shred like those Sonic dudes on the
Fender website
.
Others Tagged With