Spike Jonze, David Cross and Will Arnett Join Forces, Make Increasingly Poor Decisions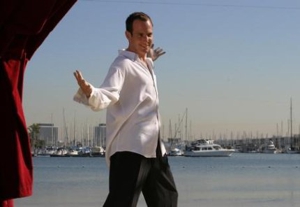 We can't seem to leave Spike Jonze alone. We've been following the never-ending status updates on his upcoming film, Where The Wild Things Are, on a regular basis. And that's not even counting all of its warm-and-fuzzy (and slightly creepy) offshoots. We'd considered giving the director a rest, but after we heard he had teamed up with Arrested Development alums, David Cross and Will Arnett, to shoot a pilot for a U.K. sitcom, we caved.
Jonze, Cross and Arnett will star in The Increasingly Poor Decisions of Todd Margaret, the pilot for which will air on the U.K.'s Channel 4. Cross and English writer/comedian/actor Shaun Pye (Extras) contribute as writers for the series as well. In the show, Jonze plays an American executive accidentally sent to run the U.K. branch of the company he works for, only to find himself entirely overwhelmed by the new responsibility.
For starters, let's hope this show gets picked up. Furthermore, let's hope some version of it eventually makes it Stateside, so American
Arrested Development
devotees get the chance to watch what happens when G.O.B. Bluth and Tobias Fünke team up with that
no-name skater guy
we clearly
don't care that much about
. But for now, the Brits have first dibs.
This will mark Jonze's first acting role since 1999's
Three Kings
.
Others Tagged With