TV on the Radio's Kyp Malone Announces Solo Album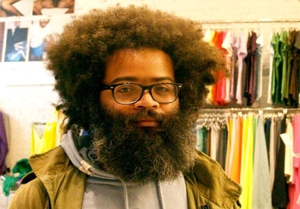 TV on the Radio singer/guitarist/beard Kyp Malone recently announced that he'll release a solo album in the fall under the name Rain Machine. Die-hard TVOTR fans shouldn't panic, though; Malone's side project isn't an indication of the band breaking up any time soon. In fact, they will continue to tour through August.

Instead, Malone explains that this solo project has been a long time in the making. "I've been writing and recording songs alone since I moved to NYC in 2000, at first alone because I didn't know anyone, then through the years by choice because of a particular freedom that going it alone afforded," he announced in a statement on the website of his project's label home, Anti-. He also explained his stage name by saying, "I didn't like how 'Kyp Malone' looked on mock ups of t-shirts and fliers, thus Rain Machine."

The album will be produced by Ian Brennan (Lucinda Williams, Ramblin' Jack Elliott) and Malone promises it will feature "a nearly full spectrum of frequencies audible to the human ear--a reflection of a variety of emotions and situations real and imagined, some rhythm and some rhyme."


Related links:
Others Tagged With