Sunny Day Real Estate Reunites, Tours, Reissues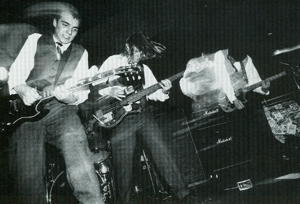 Two months after we first reported the possibility of a Sunny Day Real Estate reunion, we have more faith than ever in the Twitter rumor mill. Maybe that's not exactly true, but this week the band announced that they are reconvening after a decade-long hiatus for a 20-date tour and reissues of Diary and LP2.
In 1995, following the success of the band's debut album Diary, the group disbanded: Jeremy Enigk to pursue solo work, William Goldsmith and Nate Mendel to join up with Dave Grohl's then-new project, and Dan Hoerner to move to a farm. The band had a brief reunion sans Mendel at the end of the '90s, but it was ill-fated--the band broke up again just a few years later, after pushing two albums through Sub Pop and Time Bomb.
Now, however, the band plans to hit up a good amount of major cities for their tour, in addition to reissuing their seminal classics:
Diary
, their critically acclaimed debut album, and
LP2
, the title-less, album art-less record that SDRE released on the verge of their breakup (you may know it as "The Pink Album," since "make it pink" was the only artistic direction that Goldsmith gave the label). Ironically, the reunion comes on the heels of both Enigk's well-received solo album,
OK Bear
, and Dave Grohl's announcement of a Foo Fighters
break
.
"We had all these outsized ideas back then, 'Everyone's going to learn a new instrument,' and 'Let's do a rock opera,'" Mendel said in a recent statement. "But before we could get anywhere with them, the band broke up. We left behind all these weird and beautiful songs, though, and they've stuck with me all this time. I'm really happy that we get a chance to play them together again."
Check out the real estate in your city:
17
- Vancouver, British Columbia @ Commodore Ballroom
18
- Portland, Ore. @ Crystal Ballroom
20
- Salt Lake City, Utah @ Murray Theater
21
- Denver, Colo. @ Ogden Theater
23
- Minneapolis, Minn. @ First Avenue
24
- Chicago, Ill. @ Metro
25
- Detroit, Mich. @ St. Andrews Hall
27
- New York City, N.Y. @ Terminal 5
28
- Boston, Mass. @ House of Blues
30
- Washington, D.C. @ 930 Club
1
- Philadelphia, Pa. @ Trocadero
3
- Atlanta, Ga. @ CW Center Stage
5
- Dallas, Texas @ Granada Theater
6
- Houston, Texas @ Warehouse Live
7
- Austin, Texas @ La Zona Rosa
9
- Tempe, Ariz. @ Marquee Theatre
10
- Anaheim, Calif. @ House of Blues
11
- Los Angeles, Calif. @ Henry Fonda Theater
13
- San Francisco, Calif. @ Fillmore
15
- Spokane, Wash. @ Knitting Factory
16
- Seattle, Wash. @ Paramount Theatre
Others Tagged With