MTV's Unplugged Returns with Adele, Silversun Pickups and Katy Perry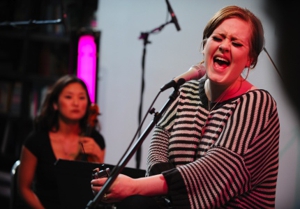 There are a few essential steps in a musician's career that signify big-time success: releasing a best-of album, headlining a festival, and throughout the 1990s, performing live on MTV's Unplugged. Alhough the series was hugely popular for a time, when major rock artists like Nirvana and Eric Clapton graced the stage with acoustic-only versions of their biggest hits, after eight seasons, Unplugged left the air, to return only for special occasions in the following years. Today, it makes a comeback, returning to MTV.com with a series of monthly performances from popular contemporary artists like Adele, Silversun Pickups and Katy Perry.

At its peak,
Unplugged
offered an intimate front-row view of rock's biggest acts, often resulting in recorded albums of the performance that became major sellers in the artist's catalog. It was exclusive and raw, the equal-opportunity version of snagging a rare B-side or catching a secret club show. Viewers saw
Pearl Jam
,
R.E.M.
and Neil Young deliver rock 'n' roll sans amps, pedals, or whammy bars, relying on acoustic guitars, subtle percussion and vocals. Later, the show grew to include musicians from all genres, including a memorable set by
Jay-Z and The Roots
in 2001, and
Alicia Keys
with a slew of special guests in 2005. Although by then it was off the air,
Unplugged
was revived briefly in 2007 with performances by Korn and Ne-Yo.
Soulful singer
Adele
performs today to kick off the show's return, with an acoustic six-song repertoire that includes "Chasing Pavements" and "Hometown Glory." July will bring rockers
Silversun Pickups
to the
Unplugged
stage, followed by Katy Perry in coming months. Each band will play a six-song set, and
MTV.com
will offer interviews, artist-selected playlists, and exclusive photos. The network will also air segments from the show during their morning music portion, as well as on their subsidiary channels like MTV2 and mtvU, and the entire
Unplugged
series will be available through On Demand.
In an age where vocoders and Auto-Tune reign,
Unplugged
presents a unique challenge to artists whose music is aided by digital technology. For some, it will be a career-booster, a chance to show off vocal chops otherwise obscured by electronic beats (
we hear you, Lady Gaga
). For others, no doubt, it will illuminate the weak links where an artist's live-performance skills have been crippled by the use of technology.
The goal of
Unplugged
is similar to that of the
Black Cab Sessions
or
La Blogotheque
, two popular websites that record and publish spontaneous live performances by contemporary bands. According to a press release, MTV hopes to use the Internet as a medium appealing to a younger generation, to engage those viewers in the
Unplugged
that was so popular only a decade ago. The show's return also signifies a chance for current artists to join the ranks of big names, like Nirvana and Clapton, who have performed on
Unplugged
for better or for worse. As another generation of musicians graduates to
Unplugged
, we tip our hats yearbook-style to the good, bad and ugly—the archetypes of past performances:
The Career-Reviver: Eric Clapton, 1992:The Bad Fit: Korn, 2007:
Others Tagged With