Head Violent Femme Gordon Gano Heads Under the Sun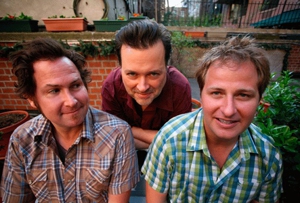 Gordon Gano, frontman of perennial misfit post-punksters the Violent Femmes, will be linking arms and guitars with brothers Billy and Brendan Ryan for Under the Sun, their forthcoming LP just announced for a September release.
Inspired by their jam sessions in the cafés of New York's West Village, Gano and the brothers Ryan promise an album of "music of a mature band, a band made of men not boys, men who have supplanted wonder for angst, controlled passion for reckless abandon." Of course, lest they throw the proverbial baby out with the bathwater there'll be plenty of Gano's trademark exuberance, with lyrics like "I was a-crappin' and a-nappin'."
Frank Ferrer of Guns 'N Roses fame joined the group on drums during recording sessions, and Lonnie Hiller of Maggie's Dream added her bass guitar to a few songs as well.
Under the Sun
is out Sept. 15 on
Yep Roc
.
Related links:
Others Tagged With