Weezer, Blink 182 Headlining This Year's (Free!) Virgin Mobile Festival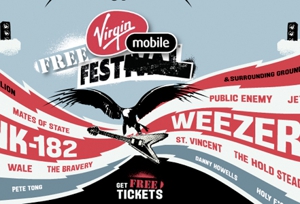 What to do if you're a festival curator in these troubled economic times? Some might double down on the existing business model; Bonnaroo's ticket sales actually increased this year. The folks at Virgin Mobile have a different scheme for success that we hope takes off, and it's easily explained in three steps.
1.
Appoint the usual slew of pop luminaries as headliners and supporting acts (Weezer and Blink 182 in the top spots, Franz Ferdinand, The Hold Steady, The National, Mates of State and many, many
more
will also perform.)
2.
Move the festival from the Pimlico race track to the
Merriweather Post Pavilion
near the Maryland-Virginia border (new open-container laws in Baltimore, you know.)

3. Make the whole damn thing free.
Yes, all 35,000 tickets for this year's Virgin Mobile Festival will be totally free of charge, meaning a name change to the now-known-as Virgin Mobile FreeFest was in order. Ticketmaster will make the tickets available to the general public on June 27 at
Ticketmaster.com
, and have even promised to waive their usual draconian service fees. Virgin Mobile customers and ticket-buyers of previous Virgin Moble Festivals will be given first crack at the tickets via e-mail a day or two in advance. You can either pick up the tickets at the Pavilion itself or the
9:30 Club
in Washington D.C., or pay for Ticketmaster to deliver the tickets to you.
Why the sudden generosity? "Because you deserve it!" proclaims the FreeFest website. "Times are tough and money's tight. That's why this year's Virgin Mobile FreeFest is on us. No really, we mean it. Since we're picking up the cost of the tickets, we're asking each person who attends the Virgin Mobile FreeFest to donate $5 to youth homelessness through our charitable initiative, the RE*Generation."
The Virgin Mobile FreeFest is going down Aug. 30 at the MPP in Columbia, Md.
Related links:
Others Tagged With