What We've Learned From Spencer Tweedy's Blog About Spencer Tweedy's Dad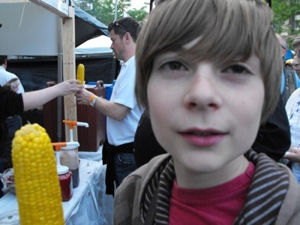 Spencer Tweedy is 13 years old and lives in Chicago. He's a pretty ordinary kid: He just finished up 7th grade (he likes school, but hears high school is way better and the girls are less dumb) and had his Bar Mitzvah this spring. At the moment, Spencer is really into photography, hanging out with his friends, reading (he just finished The Perks of Being a Wallflower, which he loved) and, of course, music. We know all of this because Spencer Tweedy writes about his life in delightfully self-assured adolescent detail on his blog and his Tumblr and his Twitter.
Spencer also writes a lot about his family, which he spends a lot of time with because he's still just 13 (even though it's easy to forget—he's a damn smart kid). But that's fine, because his family seems pretty cool. He writes about the funny things his little brother says and about all the old camera equipment that his mother just passed down to him. His dad travels a lot for work so he's not around as much, but Spencer writes a lot about him, too. It's obvious that Spencer thinks his dad ("my papa," he calls him) is pretty great, and from what we've read, we're inclined to agree. Here's some of the greatest things we've learned about Spencer Tweedy's dad from Spencer Tweedy's blog.


Man, Spencer Tweedy's dad. What a cool dude.
Others Tagged With