Bad Writing Documentarians Talk Advice, Inspiration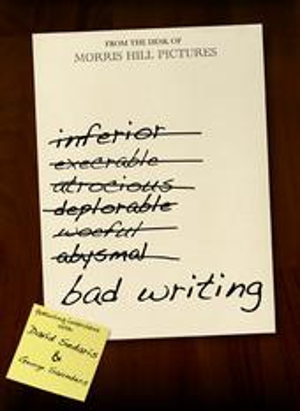 For all of us who have battled writer's block or have cringed while glancing over a previous attempt at producing the Great American Novel, it's comforting to know that somewhere out there, there are people who can actually appreciate that. They can do more than just appreciate it, in fact: They can try to turn it into art. At least, that's what husband-and-wife team Vernon Lott and Jennifer Anderson of Morris Hill Pictures did when they put together Bad Writing, a documentary that looks at the ins and outs of the craft, as well as what makes writing so bad and what good can come of it.
They didn't have to look far for their inspiration. While cleaning out Lott's mother's basement, the couple found a box of poems he had written in his teens and early 20s. "At the time, Vern was in school studying writing and it kind of shattered him a bit," says Anderson, an English professor at Lewis-Clark State College in Lewiston, Idaho.

Lott agrees that he was "struck by how remarkably awful they were." He and Anderson approached some authors they loved to read, including David Sedaris, George Saunders and Claire Davis, and convinced them to join the project about the lessons of literary failures.

Davis defines two categories of bad writing. "There's the writing that has the gem of inspiration in it, or has a good story, but it's labored at the level of craft," she says. "The other, more difficult 'bad writing' is at the level of story... To be a really good writer it takes a sophisticated understanding of human relationships, an appreciation for the complexity of our lives and the world we inhabit, paired to acute observational skills and a genuine intellectual curiosity. It also involves the ability to engage at a deeper level with the imaginative. That's the thing that's much more difficult to teach, and I suspect much of that is often innate talent, or part of the individual's early development—a household that privileged intellectual curiosity, a love of books, etc."

Anderson and Lott both cite a sense of falseness as a common trait in bad writing. "I was trying to be the French symbolist poet Arthur Rimbaud," Lott says of his early forays into poetry, which are read in the film. "Only I was living in a small Idaho mill town."

And though the authors and filmmakers spend a great portion of the film debating the definition of its title, there is one thing that they all seem to agree upon: a few cliché-ridden, adverb-laden attempts should not stop anyone from picking up the pen again. After all, they're hardly alone.

"Who of us is truly immune to the occasional bad call in judgment?" Davis muses, and comments that turning out the occasional flawed work is essential, especially for professional writers, to stay humble. "I'd like to believe this film will show other writers, beginning and accomplished, the common experience: how we move beyond those early steps, neither defeated nor defined by bad writing."

In fact, Lott, Anderson and Davis all believe that bad writing, whether your own or someone else's, is one of the best teachers.

If people are willing to put in the time required to turn around writing, Anderson believes almost anyone can be successful. "So many people do think there is the muse sitting on the shoulder, whispering in your ear, that it isn't a lot of hard work, a lot of patience and practice, and that's what we're trying to show... Very rarely can someone sit down and turn out something that is going to be literary gold."

Related links:
News: Filmmaker Celebrates the Best of Bad Writing
Bad Writing Trailer on Vimeo
Morris Hill Pictures on MySpace

Got news tips for Paste? E-mail news@pastemagazine.com.

Others Tagged With