Band of the Week: mewithoutYou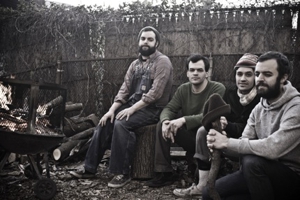 Hometown: Philadelphia
Album: it's all crazy! it's all false! it's all a dream! it's alright!
Band Members: Aaron Weiss (vocals), Michael Weiss (guitar), Greg Jehanian (bass), Rickie Mazzotta (drums)
For Fans Of: The Decemberists, Modest Mouse, Crooked Fingers

For seven years now, mewithoutYou has expressed spiritual messages through music, but it's not exactly a Christian rock band. Its tour van often runs on vegetable oil, and lead vocalist Aaron Weiss once ate almost exclusively from trash cans and dumpsters by choice, but the bandmates shirk the "freegan" label. They're an unconventionally progressive musical collective that offers a sublimely compassionate salute to humanity and nature through song, and there's no easy term for that.
"Say what you want," jokes Aaron's brother, guitarist Michael Weiss. "Just spell my name right."
The Weiss brothers—who were raised by parents who met while following a Sufi mystic—crafted songs for their band's fourth studio album,
it's all crazy! it's all false! it's all a dream! it's alright!,
from a combination of "personal experience, a few stories by M.R. Bawa Muhaiyaddeen, lots of joy and lots of hope," Aaron says. "Also probably a ton of arrogance and pride and selfish ambitions." The result is
it's all crazy! it's all false! it's all a dream! it's alright!
(out now via Tooth and Nail Records).
Produced by Danielson Famile's Daniel Smith and Brian McTear of Matt Pond PA, the album is chock full of musical fables that delve into a magical storybook world set against a backdrop of experimental orchestration. Confectionery single "The Fox, The Crow And The Cookie"—a narrative about woodland creatures and freshly baked pastries, oddly enough—is lighthearted, lovely and surprisingly devoid of Aaron's trademark shouting, which had overpopulated some earlier songs. "I just didn't have it in me to shout anymore," he says. "It was appropriate at a certain time of my life."
After a summer tour with Kay Kay and his Weathered Underground, the brothers Weiss will hit the road in August on a more intimate outing. Called the Weiss Family Tour, the performances will include Michael's wife Sarah on keyboards and Matt Chapin on trumpet, with Damien Jurado and Psalters in support slots. "Some of the guys are wanting to spend more time in Philly, so not everyone from the band will be coming," Aaron says of the lineup. "We'll still be playing mewithoutYou songs, but since different musicians are coming along—playing other instruments, horns, strings, etc.—the arrangements will be different."
As for the band's current stint on the road, it's set the bar pretty high for future tours. "The bus only broke down once and we all seem to be getting along well," Michael reports. "On the other hand, I lost my keys in Brooklyn. That was disappointing."
Listen to "The Fox, The Crow And The Cookie" from mewithoutYou's it's all crazy! it's all false! it's all a dream! it's alright!:
Others Tagged With