Catching Up With... Emma Watson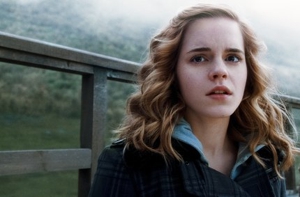 Paste caught up with Emma Watson, who plays Hermione Granger in the Harry Potter series, last week in London. The 19-year-old star talks about her passion for reading, growing up on set, and life after the franchise she's devoted nearly half her life to.
Paste: You're currently filming the last two films in the Harry Potter franchise.
Emma Watson: Yes, Harry Potter and the Deathly Hallows is such a long book that they've actually split it into two, and it will be a pair of movies that brings the story of Harry Potter completely to an end.
Paste: Completely?
Watson: I think so. I've talked a lot to Jo Rowling, and I don't think that she wants to take him any further, and that really will be that, after twelve years in all. Someone asked me the other day if there was any chance that I would return, if ever she changed her mind, and brought him back as a mature man in 20 years time, and I had to think long and hard about that idea. It really would depend on what I was doing in my life, what the circumstances were. So the answer, I think, has to be "Never say 'never'", but I think that it is highly unlikely, if you want the truth. I like to think that, by then, I would have moved on considerably.
Paste: You are off to University in the autumn.
Watson: I am—to Brown, which is an Ivy League establishment in the U.S.A. I've got a place there to read literature.
Paste: Was that a deliberate career choice?
Watson: Oh yes, very definitely. I hope to do quite well with my A Levels [she's being modest—she achieved straight A's in her chosen subjects, English literature, geography and art, as well as seven A's and three A* at GCSE level] and they've provisionally accepted me, so I'm off to study.
Paste: And was that also an equally deliberate choice, to step out of the limelight for a while?
Watson: It's not so much that, no, I'm not trying to hide or anything like that. It sounds so geeky, but I really do like studying and reading, and if I'm not working on Harry Potter, then my greatest relaxation is to sit with a book. That's how I escape stress—in literature. I always have several books on the go at any one moment, so it's no good you asking "What's on the bedside table at the moment, Emma?" because often I can't even see the table! I think that all that reading is just about the only similarity I have with Hermione, if you ask me.
Paste: It's going to be vastly different environment.
Watson: Yes, and that's what makes it all so exciting. I'll be sorry to leave all my family and friends behind, but hey, it's only a few hours' flight home so…
Paste: Nevertheless, it's a long way to bring the washing home for mum to run through.
Watson: [Laughs] True. But that's what the boys do, don't they? Women just get on with it and do it themselves.
Paste: Even so, some of your fellow students are going to recognize you.
Watson: That's inevitable, I suppose, some of them must have seen the films over the years. But I do hope that it will be only a short time before I am known as "Emma Watson, the student from the U.K." rather than "Emma Watson who starred in those Harry Potter films."
Paste: And studying will mean that a film career is put on the back burner for a while?
Watson: Not entirely, no, there are end of term breaks where I could do something if someone asks me, and I liked the idea. It all depends, doesn't it? Acting and studying are in no way mutually exclusive, are they? Going there will mean a bit of "normality" for a while. It certainly doesn't mean that I will never act again, that's not true. There's been a lot of confusion in the media about that, and most of it is ill informed—I seem to have managed pretty well up to this point! And also don't forget that I'm also very interested in fashion, and in modeling, which I enjoy. I enjoy photo shoots, because there it seems that the cameramen (or camerawomen) look at me very differently.
Paste: You are the new "face" of…
Watson: Burberry. It was a huge honor to be asked to represent such an iconic brand. Very traditional, very British—and one that I admire a lot. I really am looking forward to working with them and seeing how the concept develops.
Paste: Do you feel that you've lost out on anything over the last decade?
Watson: No, because saying that would be so ungrateful—I've had a great time, and I've learned a lot of things. I think that I've gained far more than I've "lost." I've probably had to grow up far quicker than most other children, though, and that goes for all the younger cast involved. We certainly had to act a lot more responsibly, and I've been working essentially since I was ten years old. But it has all been amazing, unique and incredible. I am a deeply grateful girl. And I'm still nineteen, so I want to do what a nineteen-year-old does. I want to be a teenager for the few months left!
Paste: So what's the worst thing about being a teenager today?
Watson: It's not happening now, but I think the most agonizing time is when you are in your early teens, and you get a crush on someone, and it isn't reciprocated. That can be so devastating. The funny thing is that, in the Harry Potter series, we all play characters who are about a year younger than we are in real life, so it's been interesting to see what they get up to, and to think about how we would have coped in real life with things like that. We can apply our personal experience to them, in fact.
Paste: Have any of the young actors in the series ever paired off with one another?
Watson: As far as I know, not once in ten years. There are no boyfriend-girlfriend relationships at all—because we all work so hard. There's not the opportunity. And Dan Radcliffe and Rupert Grint to me are like a pair of warm-hearted brothers.
Paste: You've come a long way in ten years. Have things changed much on the movie sets in that time?
Watson: Personally, yes, very much. You have to remember that I'd never acted on film before, and there I was at the age of ten, starring in a blockbuster. What I found so very helpful (and considerate) was that Chris Columbus, who directed the first Potter film, just turned the sound off on the set, and we dubbed our lines in later. That way, he could give us direct instructions on what to do, and where the special effects were to come in. Now that added a lot to his schedule, but it was so generous of him. Consequently, he got relaxed performances.
Paste: You mentioned that reading is a stress-buster for you….anything else?
Watson: I've found that very physical acting—hitting someone as part of the action, and when the script calls for it—also helps! It's very satisfying.
Paste: You've got very close to J.K. Rowling.
Watson: And to Helena Bonham Carter, as well. I look up to both of those women as mentors in their own fields. It's nice to talk to—and to listen to—an older woman who has gone through what you're going through, and to get their opinion. And it is always opinion. They never dish out big clunks of advice.
Paste: Ever kept a souvenir from the set?
Watson: Never. Everything is accounted for and everything has to remain in place—unless it finds its way into an exhibition. You can't walk off with anything. They'd be furious if you did!
Paste: Will you miss Harry Potter when it all ends?
Emma Watson: Without a shadow of a doubt. Absolutely. We've all become part of a huge team, and we are a vast extended family, no question of that. It is also totally ego-free, which is amazing. But I don't think that Harry Potter will ever disappear. New generations will keep on rediscovering it. They are, hopefully, classics, and if they've done one thing, they've introduced young people to both reading and to the movies. They have longevity, I firmly believe that.
Others Tagged With