Catching Up With... Harry and the Potters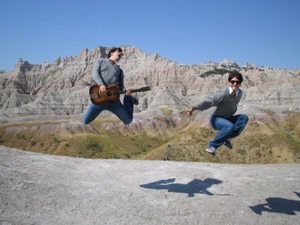 Click
here
to listen to Harry and the Potters' "Dumbledore."
Click
here
for
Paste
's Wizard Rock Playlist.
--
The summer of 2007 was an insane year for Harry and the Potters. The wizard rock band, led by brothers Joe and Paul DeGeorge, were at the head of all the insanity created by the release of the last Harry Potter book, Harry Potter and the Deathly Hallows.
Now, two years later, things have quietened down a lot for the band. But they're still keeping busy with a well-loved charity (The Harry Potter Alliance) and a wizard rock subscription service (Wizard Rock EP of the Month Club), as well as shows for the odd Harry Potter event, like their concert on the eve of the release of Harry Potter and the Half-Blood Prince, which, yes, will take place in a cave. Well, a chasm, actually. Purgatory Chasm, to be exact, in Massachusetts. After a sing-along-style acoustic set, the band is planning on watching the midnight screening of the film, with everybody else.
Paste: What is it going to be like to put out an original record now? How does it feel to have the books finished and the movies coming to an end, now that they've been such a big part of your lives?
Paul DeGeorge: This new record [Priori Incantatem] is made up of songs we'd released on comps or 7-inches over the past seven or eight years or stuff that had been unreleased that hadn't been put on previous albums. So we haven't had that experience yet, of recording a new album since the last book came out.
We've sort of scaled back since the final book was published, as far as the amount of stuff we're doing with the band. It's become less of a focus for us in our personal and professional lives. I feel like we had our big huge moment and that was in the run up to the final book publication. We never expected to go that far as a band, you know? When you start a goofy band like this you don't expect it to become anything real [laughs], something that people are calling you up for interviews for, like seven years later. In a way, we've come to the point where we don't feel that we need to push the band anywhere; when cool things pop up on our radar, like people want us to play this show or that show and it sounds like it's going to be fun, that's things we're interested in doing now. But we're not going out and touring, like we were two or three years ago when we were playing like 123 shows a year. Now we're down to like 15 or 20 shows a year.
Paste: You're involved in a lot of charity work too, with Harry and the Potters and a lot of other wizard-rock bands.
DeGeorge: That's exactly what's become more of my focus, since we've stopped playing as much as doing a lot of work along those lines. A couple of years ago, back in 2005, I helped to co-found the Harry Potter Alliance, with my friend Andrew [Slack, director of the Harry Potter Alliance], and that was aimed at translating the excitement around Harry Potter into real-world action on social justice issues and getting kids, in the same way that Harry and the Potter was about getting young people pumped about rock 'n' roll by using Harry Potter as a conduit, we wanted to get people interested in activism. and for a lot of young people they don't have that in-road into activism until they maybe get to college and there's an Amnesty chapter or something. And I think Harry Potter enables them to get in at a much younger age by drawing parallels between Harry Potter and the real world. It's a tremendously successful endeavor, I think.
Paste: Has the charity been involved in Darfur and causes like that?
DeGeorge: Exactly. The Harry Potter Alliance will work on a number of social-justice issues. Darfur was probably one of the ones we've got the most press and acclaim for. We think of ourselves as much of an activist organization as an educational organization, because for people in high school, Darfur is not a prominent media subject; it's not something that's covered in the press. So we can educate them on what's going on there by drawing these parallels, like when Voldemort returns from the dead, the mainstream media totally ignores it and the government, the Ministry of Magic, tells everybody, "Oh no, everything's cool, don't worry, we've got it under control; there's nothing weird going on." And it's the same thing you see now with Darfur: You see all these governments, they've recognized that there's crazy stuff going on there and yet they've done nothing about it.
Paste: What other causes have you been focusing on with the Harry Potter Alliance?
DeGeorge: We've been focusing a little bit on media consolidation. In the wizarding world there's only one source for wizarding news, which is The Daily Prophet, and the single other source for news, The Quibbler, is a laughing stock, but at times they turn out to be right. And they're the ones doing the real reporting sometimes. So we've looked at that in the campaign. And we're occasionally working on campaigns around equal rights, equal marriage rights and things like that, using the Dumbledore parallel. Dumbledore was obviously a very accepting individual, and a couple of years ago we found out that Dumbledore was gay, which was kinda of cool for that. [laughs] We're currently working on a campaign called "What Would Dumbledore Do?" which is in the run up to the sixth movie here... And this whole campaign is aimed around getting the whole organization of Harry Potter Alliance and Harry Potter fans everywhere to talk about what Dumbledore's taught them, life lessons from Dumbledore and things like that. We're aimed at really getting participation from all corners of the Harry Potter fandom to come up with 100 Things That Dumbledore's Taught Us, and ways he's affected out lives, and things like that.
Paste: When you're writing the songs, do you have a process or get a lot of suggestions when trying to decide what parts or aspects of the book to write about?
DeGeorge: We write about the stuff that entertains us. If there's some sort of turn of phrase that she uses that we think is really funny, then we might write a song around that. Or just cool events in the book. Obviously there are these big overriding themes, and we'll write songs that relate to that. But as far as the stupid, silly songs go, well, the last songs we recorded were for an EP, and the songs focused on tiny little inconsistencies, like really what hardcore fans would find funny, like when Harry buys his wand, and it costs him seven galleons. And then later, in the sixth book, Slughorn is talking about unicorn hair being worth 10 galleons a hair. And a unicorn hair is a very common wand core. So if your wand core costs 10 galleons, and a full-blown wand costs seven, then that really doesn't add up economically. That stuff really gives me a jolt. [laughs] I think it would for somebody else, like, we got involved in this hardcore Harry Potter fan community, and they really revel in the detail, and I was like, this is too funny, because they actually care about that. I guess I do too; I really love that minutia. It's all in the details, like The Hold Steady.
Paste: You play with a lot of different wizard rock bands. Are any your favorites?
DeGeorge: There are people who have become our dearest friends, like Draco and the Malfoys and The Whomping Willows, those are the guys we hang out with all the time now. One of the dudes in Draco and the Malfoys [Brad Mehlenbacher] has been our drummer for the past three years. I also have plenty of other favorite bands that we don't play with as frequently. I run the Wizard Rock EP of the Month Club, and so because of that I get to hear quite a few bands. We've already mailed out six of the CDs, so half the year is already done, and two of the CDs we've mailed out are two of my favorites that I've ever heard, in all of wizard rock. One of them is very underground, Mary and the GrandPres.
Paste: After the illustrator?
DeGeorge: Yeah, after the illustrator! They're not assuming a character here; they're just writing some of the most bizarre and weird music. Imagine if there was an Elephant Six band doing wizard rock. Very weird and lots of ukulele. It sounds like stuff recorded on a four-track, really funny stuff. Good harmonies. And the other one is MC Kreacher, and we just mailed off their disc last week, and it's totally maybe one of the best wizard rock discs ever made. He totally inhabits Kreacher with hip-hop. "Wiz-hop," we call it. Kreacher the perfect gangsta wiz-hopper; he's got so much attitude. It's really good.
Paste: Are most of the band involved in the foundation as well, like the HP Alliance and its charities?
DeGeorge: The Wizard Rock EP Club, all the proceeds from that will go to, this year it's the HP Alliance, but in past years it's been shared between Harry Potter Alliance and First Book, which is a national literacy organization. The EP Club's been going for two and a half years and we've already made over $30,000. It's pretty awesome.
Paste: What's it like knowing that the films are coming to the end? There was already a gaping hole for many fans after the books finished. In a couple of years the films will be done too.
DeGeorge: It's funny, I don't feel like our band revolves the films so much as it does the books. I feel like the fandom, the people who are really dedicated to Harry Potter, the films, they're great and fun, but I think it all comes back to the books. The books will live on and in years to come, it's going to be the book to read to your kids when they turn seven, or once they're old enough. There's going to be this whole generation of kids who grew up with Harry Potter, and in 10 years they're going to have their own kids, and they're going to be counting down the days 'til they can read that first Harry Potter book to their kids. So it's going to be living on in that way for years and years to come. I don't worry about Harry Potter disappearing off the face of the planet like Twilight will in a couple of years. [laughs] You can print that: I don't care! I've never read it, though; my girlfriend's read it and she's like, "You can't read this, you will not be able to handle it."
Paste: How did you celebrate the release of the last book?
DeGeorge: That summer was just the craziest summer of my life, honestly. We did the most hardcore touring; we were on the road for, like, 11 weeks straight. And the only break we took in those 11 weeks was three days we took off after the last book came out in the middle of the summer. The book came out Friday night and we took the weekend off and then we were back on the road for more touring. We had never thought our band would last until the seventh book, and we decided if we did we had to throw a good party. We were able to organize this show in Cambridge, Mass., which actually occurred on the Harvard campus where they have graduation. Totally Hogwartsy, like being on the grounds of Hogwarts. It was a huge, outdoor, free show and 10 or 15 thousand people came to the show, the show ended at 10.30 and everybody scurried off to wherever they were getting their books. it was this huge party, it was a great feeling; it was one day where instead of playing a library, we were Bruce Springsteen or something.
Paste: How do you feel about the movie coming out? Are there certain things you'll be looking forward to having seen the trailers?
DeGeorge: Well, actually, this is the movie I'm most excited to see, after seeing the teasers. I loved that the first teaser I saw didn't even have Harry Potter in it. It was just all Dumbledore and Voldemort. It was really cool. I'm pretty pumped about this. For the first time it seems that they really went for the dark angle, which is pretty rad. This is the move I've been really, really pumped about seeing. I'll be there, opening night.
Others Tagged With