Columbia Pictures to Bring Life of P.T. Barnum To Big Screen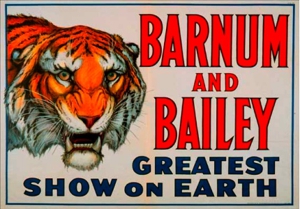 Columbia Pictures (owned by Sony Pictures) has just purchased the rights to a pitch for a biopic chronicling the life of P.T. Barnum, creator of "The Greatest Show on Earth." The pitch came from writer Stan Chervin, who was involved with the writing the first draft of Moneyball, as well as The Sorcerer's Apprentice for Disney and J Mac for Sony. Todd Garner, who also produced Anger Management, 13 Going on 30 and Paul Blart: Mall Cop will serve as producer. Neither a director, nor a title nor a release date have yet to be named.

As a young showman, Phineas Taylor Barnum and his business partner James Anthony Bailey merged with The Ringling Brothers Circus to bring new levels of circus entertainment to early 20th-century America. Rumors say that the film will focus on Barnum's early life, though no details have yet been confirmed.

The Discovery Channel aired a three-part made-for-TV biography series on the life of P.T. Barnum in 1999. The BBC also produced a musical, Barnum!, in 1986 tracing the showman's career. In 1934, 20th Century Pictures also released a comic interpretation of Barnum's story, starring Wallace Beery, who had joined The Ringling Brothers Circus at the age of 16, as Barnum himself.


The Ringling Bros. Circus
News: Sony Nips at Mike Tyson Documentary
Sony Pictures
Others Tagged With