Dethklok to Appear in Metalocalypse Video Game, Release Dethalbum II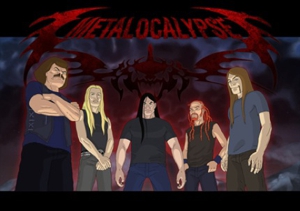 Just because their mostly-fictional television home is on hold until the fall doesn't mean that Dethklok is taking a break. With an upcoming new album and a soon-to-be-announced video game, the bone-crushing cartoon metal band seem to be moving on from simple world domination to total universe tyranny.
The Wall Street Journal was the first to report that Cartoon Network would make a very special announcement at this year's Comic-Con in San Diego. "Metalocalypse has been responsible for a heavy metal album that debuted at #21 on the Billboard Top 200... and now comes the video game, to be announced later this week by Cartoon Network and Konami at San Diego Comic-Con," says the WSJ. Metalocalypse: Dethgame will follow the lives of the band's roadies who fight to the death in the name of heavy metal.
In addition to achieving video game immortality, Dethklok will also be treating the world to another album. Williams Street Records, Turner's own record label, recently announced the upcoming release of The Dethalbum II. Dethklok's minions can mark their calendars for Sept. 8, when mass mayhem and brutality will hit the world in the form of CDs and MP3s. Or, you can wait until Sept. 29 and spin it on vinyl.
Related links:
Others Tagged With