Peter Jackson's District 9 Gets Trailer, Release Date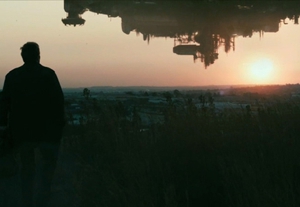 After nearly a year of extensive viral marketing, Neill Blomkamp and Peter Jackson's District 9 emerged from its insectoid chrysalis in pulpy sci-fi glory. The film, based on director Blomkamp's stellar short film Alive In Joburg, is confirmed for an Aug. 14 release.
The newly-unleashed theatrical trailer hints at a special-effects bonanza wedded to keen social commentary. Blomkamp took the unusual step of setting the film in his native South Africa, imagining what would happen if the aliens crash-landed in South Africa and the Apartheid government took to corralling the extraterrestrials ("Non-Humans," as the film terms them), in makeshift internment camps.
The story involves a sinister megacorporation with the ominous moniker "Multi-National United," which is keeping the non-humans imprisoned on Earth to decode their weapons technology.
One viral website
portends the movie's plot by hinting at August 14, 2009 (the day of release, natch) as "Breach Day," the date when MNU will "unlock hidden secrets to the future of a vast array of technological advances." And with that cheerful thought in mind, we advise you to take a look at the trailer:
Related links:
Others Tagged With