Former Football Player Now Member of New York Metropolitan Opera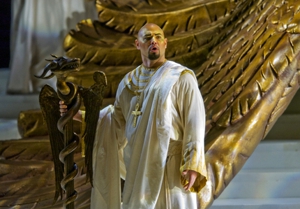 During his days as a football player (first at the University of Colorado, then in Finland and finally with the Arena Football League), Keith Miller didn't listen to stereotypical motivation music. While teammates spent locker-room sessions jamming to hip-hop and metal, Miller confesses that was never his scene. "I used to listen to the 'Queen of the Night' aria before games," he told The Savannah Morning News. This interest has evolved considerably since those days and has become a new career for the former fullback. Miller studied at the Academy of Vocal Arts in Philadelphia, and he's now a member of New York's Metropolitan Opera.

His interest in opera started in college, when he took a date to see a performance of The Phantom of the Opera. After that show, he was smitten with musical theater and watched whatever he could, often teaching himself parts. "I was still a jock at the time, and I thought, you can pick up chicks if you speak Italian," he joked to The New York Times.

But his interest went much further than picking up chicks. Since a 2006 performance of Madama Butterfly, Miller has been with the Met. His latest gig with the group is its summer recital series, where he sings with his wife Joyce El-Khoury. There are three remaining free outdoor performances in the series (tomorrow in in East River Park, Manhattan; Aug. 7 at Tappen Park, Staten Island; Aug. 14 in Coffey Park, Brooklyn), but there's no word on whether the ex-football player might be up for a game of catch in the park after the show.

Related links:
High Gravity: Manchester International Festival: Rufus Wainwright's Opera Prima Donna
News: Philip Glass Says Hi-Ho to Opera About Walt Disney
Keith Miller on Pro-Football-Reference.com

Got a news tip for Paste? E-mail news@pastemagazine.com.

Others Tagged With