Getting to Know... Hjaltalín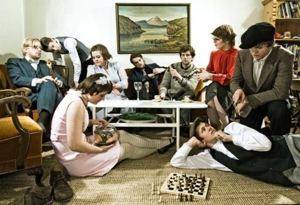 Hjaltalín, one of four up-and-coming Icelandic artists featured in Paste's second-annual International Issue, released its debut album, Sleepdrunk Sessions, in 2007. With more than 20 musicians involved in the recording process, the LP featured rousing choruses and lush orchestration, including violins, piano, accordion, clarinets, bassoons and trumpets,. The band's proclivities for unorthodox arrangements and unapologetic experimentation cemented, Hjaltalín soon hit the road with headliners including Múm and Cold War Kids.

Paste caught up with Högni Egilsson, the band's lead singer and songwriter, two days before they headed out on the second leg of a European tour. He shared his thoughts on the dynamics of a pop music dictatorship, the band's in-the-works new album and just what makes his homeland a haven for musical talent.

Paste:
How did the band come together? Have you all known each other for a while?
Egilsson:
The band came together when we were studying together in a sort of middle school or high school. We were 17… 16, 17, 18—about that age. We were all singing together in this choir, this kind of youth choir, which was in the school. Yeah, we all kind of left closely there. So, we became friends and we started playing music. We were in this choir here, and we just started playing some silly pop songs and it just evolved into what it is today.
Paste:
With eight members, did you face any pressure early on to edit down your instrumentation or drop a few band members to be a more traditional size?
Egilsson:
It wasn't because of pressure, I don't think. It was just because of practicality. We had a cello and we had a clarinet, as well. We play with a lot of bands but when we tour it is just because we can't afford to tour with so many members, so we just have to cut down.
Paste:
Your debut album
Sleepdrunk Seasons
was released in Iceland in 2007. Tell me a little more about the making of this album—how long it took, any particular themes that might have inspired you.
Egilsson:
It was an album that took quite a long time in the making. It was actually set up to be just an EP album. We were really just kind of very unknown band when we started making it. We were just kind of playing on and of gigs here around Reykjavík. Two guys came up to us and said they wanted to make an album—two guys that had some experience on the pop music scene. One of them—a member of the band Múm [Gunni Tynes]—was helping us make the album. We started making it in 2007 and it was finished in 2007—late 2007, in October. It was supposed to be six songs, but we ended up with 12.
Paste:
Before the album was released, your first single "Goodbye July" became a really big radio hit [in Iceland]. That kind of early hype hurts a lot of bands—it builds this pressure and all of these big expectations when the album comes out. Did you that worry you, or did you just have to put that out of your mind and focus on the album?
Egilsson:
Actually, there wasn't really any kind pressure because of the song coming out on the radio. That song coming out on the radio created kind of a general interest in the band. I never felt any pressure. I felt more like, "Wow!" It was more like, we knew it was going to be a good album, we knew it was going to be a fresh album. We really just hoped to play around Iceland. We never set out to do any international traveling or playing outside of Iceland. It just kind of caught on very suddenly and very naturally.
Paste:
Is it difficult to meld the creative sensibilities of eight different people? Does it ever come down to taking a vote? Is it a dictatorship or a democracy?
Egilsson:
It's more of a very… how would you put it? A very gentle dictatorship, I think. [Laughs] I made the songs on the first album and I made most of the songs on the second album, and I'm kind of in charge of what goes into it. But everybody takes part, and there is a conversation about the music and how we set it up, and we try to mold the two together, make the music together. The songs have always come from me, but we always discuss what we want to do and kind of use that approach. It's democracy in a dictating manner.
Paste:
An astounding number of great artists, authors and musicians all come from Iceland. There have been a lot of theories floated around as to why, including the climate and the purity of the water. Do you have any of your own theories on that?
Egilsson:
I would not think that any one theory would cover it. I would say that we have gained a lot from the size of Iceland. That is, that there are not so many people to purchase music in Iceland. That's why there's not a lot of money to gain from making music, so people don't decide to make music for financial reasons. It's because they want to do it, so there's not really any style that becomes prominent. So we just do whatever we want.
Paste:
If I'm not mistaken, you're in the middle of a tour right now? What has that been like?
Egilsson:
We go back on tour this week. We've been touring a lot this year. We started in January, then in April. We've done a lot of festivals in June and July. So yeah, this is like our fourth tour—our second tour of the U.K. It's always fun and it's always exciting. We got a lot of new songs now so it will be good to try them live.
Paste:
Do you like to test new songs out?
Egilsson:
Oh, definitely. Definitely. It's a very important part of the process of making a song to try it out live.
Paste:
Is that a nice break for you and the band, to play new material after you've been touring for a while?
Egilsson:
Absolutely. These songs were written in 2007—it's 2009 now. It's very rewarding to have a new challenge with new songs. And the thing about the new songs is they're quite different from the old ones... Actually, I think it's quite American music. It's like American studio music from L.A. It's similar to Fleetwood Mac to me, or something like that, if that tells you anything, I guess.
Paste:
Are there any more new projects you're working on?
Egilsson:
Actually, at the moment we are planning to launch a studio session the eighth of August. It's going to be a large, symphonic studio session, kind of in the 60's style. It will be a symphonic orchestra, like 30 strings and 15 winds and percussion and electric base. It will be a very nice experience conducting that and making a studio session. It will be very new, very fresh experience because it hasn't been done for a while.
Listen to "Traffic Music" from Hjaltalín's Sleepdrunk Seasons:


Others Tagged With