Getting to Know... Joe Pug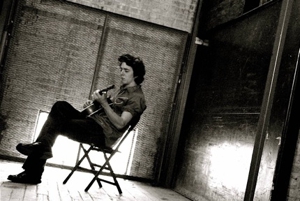 Four years ago, Joseph Pugliese, now 25, was days away from the start of his senior year as a playwriting major at the University of North Carolina at Chapel Hill when he realized he wasn't happy there. That night he cut his losses, packed his car and—in the boldest move of his life—hit the road for Chicago.
Once there, the Maryland native got his hands dusty in carpentry by day and reacquainted them with his acoustic guitar by night. He took on the moniker Joe Pug and began writing songs and playing them all over town, eventually earning a few headlining gigs at the rock hub of Schubas Tavern. And as the press started to buzz about the young songwriter, comparing him to Bob Dylan and Josh Ritter, the venues only got larger.

On the seven tracks of his Nation of Heat EP (released in 2008), simple acoustic riffs and the occasional harmonica hum come to life underneath smart folk-poetry. The touch of roughness in Pug's voice and the honesty of his words make it a compelling glimpse into the mind of a young man, rife with quarter-life questions, reflection and anticipation. His debut full-length is slated for release this fall, with his new In The Meantime EP now available for free.

This summer, Pug has hung up his hammer to hit the road again, this time to open for Steve Earle on tour. Just before his June performance at the Atlanta Botanical Garden, Paste sat down with Pug to discuss what it's like to be on the road with an outlaw country legend and why he's chosen to ignore the buzz and simply get to work.

Paste: Tell me about your experience leaving school, your revelation before senior year and all of that. What was that big step like for you and what was the big push?
Pug: I think it was just—it's not that I was totally unhappy. Chapel Hill is a wonderful city and it's a great university, but it just wasn't—I wasn't fulfilled in one way or another. I don't know if it was personally or spiritually or creatively, but certainly that wasn't there [at that moment] and never was there when I attended school there. And then it all sort of came to a head. I had just moved all of my things into an apartment I was renting and I was registering for classes late. It was like three days before classes started and no classes were open. I had just visited a buddy in Chicago a week before and I remember thinking to myself when I was on the plane back, "Well, definitely I'm going to move here after the school year's over." And then I was just sitting there on the campus and it was just like "Well, that's the place I want to be, why wait another year to go there? I mean, lots of things can happen. So just go there right now." And I did. I drove there that night.

Paste: Was there a mental hurdle you had to get over in order to drop out, since it is such a break from the mainstream?
Pug: Absolutely there was some of that, but there wasn't a whole lot of anxiety. There was nervousness just at striking out at something new. I didn't really feel nervous until I hit Chicago traffic that next afternoon, and then it just [hit me]. But [I was] just more nervous about conquering a new city and learning how to fit in there. I wasn't anxious otherwise, because it was like one of the very few things in my life that I've ever been absolutely sure about. I'm never sure about anything, but I was absolutely sure about that. So I didn't ever worry about that because I was just so sure... Up until this point it might've been the happiest moment of my life. Absolutely.

Paste: "Hymn 101" feels like the beginning of something big. I mean, quite literally, in that it's the very first song in your first EP. But there's something about it that feels like the beginning of a journey or the beginning of a quest. I'm wondering: ostensibly that quest is going to go on the rest of your life, but what have you learned so far? What are you learning now?
Pug: I'm learning lots of like, nuts and bolts things. How to be a musician. Things like how to perform every night. You know what I mean? Like every night. I'm learning that by having the extreme good fortune of being on the road with some very amazing older musicians who have been doing this for a long time—Steve [Earle] being one of them, Rhett Miller, Joe Ely from Texas, one of the Flatlanders. I watch their sets every night. I watch how they carry themselves. And also, from an artistic standpoint, I'm learning how to stay inspired on a regular basis, which is probably the hardest part of the job. Actually, I think that is the job of being an artist—learning how to do that all the time.

Paste: Do you ever seek out these musicians, these older mentor-type people that you're touring with and ask them questions about what they do, or do you just watch and learn?
Pug: I mean I do, but they might not know that I'm doing it. I never force anything with those guys, because they deserve the respect to just go to work. If they don't feel like dealin' with me, they certainly should not have to. I'm a guest of theirs at these concerts. But every one of them has been, for the most part, more than willing to sit down and shoot the pat with me at some point. Again, I can't stress this enough, it's like any other business. These guys have been in it a long time and they know a lot of stuff and they've been through a lot of stuff. And if you get them in the right mood and at the right time, and you're not too prying and you're not too weird about it, they'll give you some invaluable advice, that's for sure.

Paste: [Before you moved to Chicago] you really hadn't been writing music at all. How long did it take for the EP to come about?
Pug: It took about a year and a half to write it. It's hard for me to give you a timeline because there were so many different recording sessions that happened. It took about a year and a half to write it, and I'd say all told about two years to get it recorded and everything, and another year to find a manager and get artwork for it and release it, and now touring I'm behind it. So at the end of the day, it has been a very long process.

Paste: When did you start playing those songs out?
Pug: In the midst of writing them. I definitely think that that is crucial for writing songs. Once you stand up in front of an audience and start singing a song, you don't even need a reaction from them to know yourself whether this one is ready or not. You can tell what's clear enough and what's too vague and what you cut corners on very quickly if you're aware of the people there listening to you.

Paste: As a former playwright, that must have been something you needed to be mindful of in that work, too. Did you have the opportunity to showcase any of the things that you wrote in school?
Pug: Yeah, well what was very cool about Carolina and the reason I went there is it has a prodigious amount of student-run theater. They'll do established plays written by published playwrights, but then they also do a lot of student-written work. So I did two or three plays there that I had written, and then acted in a bunch.

Paste: So being on stage is something that's natural for you?
Pug: That's one thing I knew how to do pretty decently—be on stage. Sometimes you go places and people don't listen, and that's the way it is, man. It doesn't happen that much anymore, it still happens at certain gigs, but starting out, you know, you're playing places with Sports Center on the TV, and some of 'em don't even turn the sound off—seriously. So you can either feel really insulted by that, or you can say to yourself, "Well, maybe what I'm doing is not more interesting than Sports Center. And that's a problem." Because, like it or not, however high or low minded you think [the audience is], at the end of the day—especially going out and playing, records are a bit different—but especially going out and playing, it's entertainment in one form or another. It doesn't have to be like really loud drums and stuff to get people into it, but it does have to be engaging. It does have to be interesting, and there's no question about that. That's just what it is.

Paste: And it sounds like you have a real humility about it—that if it's not working you don't say, "Well, screw you," but more like, "OK, well, maybe I can rethink this."
Pug: Very rarely is it the audience's fault. Almost never. I have had a couple of cases where it was the audience's fault, but at the end of the day, these people paid money to get in here, this is their time off, they're hanging out, and if you haven't captured their attention… that's your job to entertain them. They could give a shit about what you're trying to accomplish artistically, unless you bring them in and show them why it's important.

Paste: In terms of the songs themselves—what is the word "hymn" to you? Did you grow up…
Pug: …in the church? No, I did not.
Paste: OK, so what does that word mean for you?
Pug: For me, that represents something that's very basic and unadorned as you can possibly get. It's really getting to the point. In some ways it's sort of like a set of instructions, and in some ways it's like thoughts or feeling distilled to their most succinct—like a crystal, right there, a crystal. You thought about all these different things, you had all these different feelings and you tried all these different ways to say it, and finally you got it in one sentence. [In] the couple of songs that I have written as hymns, there was a lot of stuff that all came into this very succinct one thing.

Paste: That kind of precision is so satisfying.
Pug: Yeah. Yeah, absolutely.

Paste: So there's a ton of buzz in the press in which you're compared to Dylan and some other luminaries, and people are anticipating that you may be one of the greatest songwriters of our generation. Is that inspiring to you or is that frightening?
Pug: I don't think it's really either. No disrespect to people in your line of work, but really, you just have to take that for what it is, which is one person saying one thing at one point in time and space, you know what I mean? And there could be any number of reasons why they did say something or didn't say something. And so it only has gravitas if you give it gravitas.

Paste: Have you chosen not to?
Pug: Yeah, I mean you can't really think about those types of things. I will read reviews of other people's music, especially writers who respect and I trust, but you just gotta always keep in mind that, to some degree, journalism—I just don't buy that it has no amount of bias in it.

Paste: Sure, I mean, no writing is totally objective.
Pug: Yeah, like there are very personal reasons in this person's life of why they're saying this about me. I guess that would undercut any insult or any adulation.

Paste: Do you have that mindset, music aside, just in terms of the way that you interact with people?
Pug: Yeah, that's something that I truly believe. If someone's being an asshole to you, if you don't understand why a friend or a loved one or even a stranger does something…I mean think about yourself, man. I mean it's all up here. It's all going on up here. And you can't really take things too personally. I mean, I get heated just like everyone else, but in a perfect world that's the way I'd feel.

Paste: Easier said than done, that's for sure. What are you listening to these days?
Pug: I'm listening to a lot—a lot a lot a lot—of Lucinda Williams. I just got into her recently. So I've been listening to a couple of her records. I love her, a lot. And actually she's playing at Bonnaroo tonight—I wish I could be there.

Paste: How did you get hooked up with Steve Earle?
Pug: My understanding is they were looking for an opener, and I was in the running, and his manager gave Steve the record, he really liked it and said, "Bring him along." I found out two weeks before. I was supposed to have all of June off, and my manager called and said "You're gonna be touring all of June," and I said, "Man, I'm really tired," and he was like, "But you're opening for Steve Earle," and I said, "Ok, I'll be there."

Paste: What has been your favorite moment of this tour so far, the moment when you really felt like you had arrived?
Pug: It was the first day that I was on this particular tour. I played my set, and I walked off, and Steve Earle was standing in the wings and he shook my hand. He said, "Good job." You know, he had watched my set. This is a guy whose records I grew up listening to. I mean, literally—literally I've had daydreams about that moment. And not just recently, not when I found out that I was gonna be going out on the road. I'm talkin' about when I was a teenager, I had dreamed about that moment.

Paste: So did you have the fire to do this when you were a kid?
Pug: I always knew I was gonna make my living on the stage, in one way or another. It's really the only marketable skill that I have, so I knew that it was just gonna have to be that way.

Others Tagged With