Ghostly International's Free iPhone App Streams Playlists Based On Listener's Mood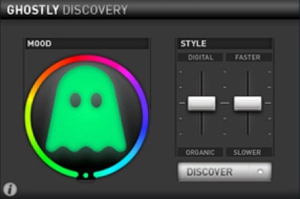 While iPhone apps for music lovers are a dime a dozen, a new release from indie imprint Ghostly International seems to be setting a new standard. Yesterday, the record label heralded the arrival of Ghostly Discovery, a Pandora-like app that streams a playlist from Ghostly's catalog based on the listener's mood and other factors.
By adjusting the levels of your mood, desired speed and whether you're feeling "digital or organic," Ghostly Discovery plays appropriate songs (full versions, none of that 30-second demo business) that you can then mark as favorites, share with friends and purchase from Ghostly. Songs marked as favorites can later be accessed and played on the Ghostly website.
The Ghostly Discovery mood spectrum seems to cover the bases, from "Aggressive" to "Introspective," with literally everything in between: simply point to a spot on the color spectrum. We at
Paste
are currently feeling pretty stoked about the just-announced
Austin City Limits line-up
, which translates to a sunshiney yellow. Seconds after setting the speed preference to "faster" and the style to "organic," we were given Matthew Dear, Skeletons & the King, Ben Benjamin and Deastro. Playlists can be shared between friends and, if you really dig that Deastro song, you can just mark it as a favorite and buy it online.
While the playlists are only drawn from the Ghostly catalog, we didn't get any song repeats after listening for about an hour. So, while this cool music app may not top
Brian Eno's
, it still has us geeking out at no cost.
Check out the Ghostly Discovery preview below:
Related links:
Others Tagged With