Giant Gundam Set to Terrorize Downtown Tokyo, Godzilla Unavailable for Comment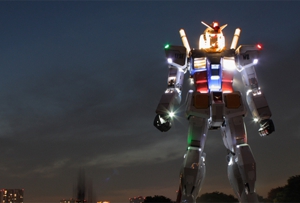 Giant anthropomorphized robots are pretty popular these days, but they've been a part of our worldwide pop-culture for quite a while. Three decades, in fact. A testament to the enduring appeal of this sci-fi subgenre is currently towering over a Tokyo park as we speak: a full-scale replica of the iconic Gundam is almost complete.
Bandai
, in conjunction with the Japanese government, built the 59-foot-tall monument in Tokyo's Odaiba Shiokaze park to commemorate the 30th anniversary of the landmark
Mobile Suit Gundam
animated series.
Gundam
began as a television show in 1979 and went on to spawn movies, books, video games, comics, toys, more TV series, and every other merchandising tie-in imaginable.
The monument will be officially unveiled on July 11, and will continue to watch over the people of Tokyo until the end of the Summer.
For those of you who can't make it to Tokyo, the good people at Pink Tentacle posted
some awesome nighttime photos
. YouTube users have also posted
dozens of videos
of the now-fully-operational metallic beast. Watch as it lights up the Tokyo night, and let's hope we never have to use it to fight off alien invaders, gigantic lizards, or other giant robots:
Related links: