Move Over, Arts and Crafts: Girls' Rock Camp Teaches Empowerment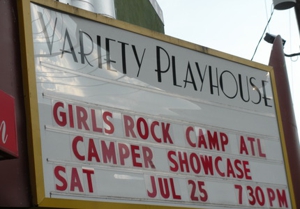 It's a Saturday night, and the Variety Playhouse in Atlanta's Little Five Points neighborhood is filling up. A few people settle into the theater's plush seats, but a considerable crowd is gathering in front of the stage to better facilitate the dancing and fist-pumping that will begin as soon as the music does. To the casual observer, it would seem like it was business as usual at the venue. But anyone looking closely would notice that something seems just a little different from the standard Saturday night. There are more middle-aged men in golf shirts than normal, and certainly more toddlers. Plus, it's 7:15 p.m. Why is a rock show starting before the sun has even set?
Turns out, it's because most of the performers have to be in bed in a couple hours. They're the campers from Girls' Rock Camp (ATL), and they are all between 10 and 16 years old. They have just spent the past week forming bands, learning instruments, penning original songs and preparing for this final performance. About half of the 34 campers had never picked up an instrument before Monday morning, but here they are, with glittery, neon-colored streaks in their hair (and matching eye shadow to boot), ready to rock. They're tuning basses, carrying keyboards that are nearly as big as they are, twirling drumsticks like they've been at this for years.

There are rock camps for girls around the world, and though each is run independently, especially when it comes to finances, many work together through the Girls Rock Camp Alliance. The Atlanta camp is a relatively new addition to the Alliance, having just wrapped its second session. Stacey Singer, a director and co-founder of Girls' Rock Camp (ATL), said she considered it her "social responsibility" to start a camp in Atlanta. While working for the Indigo Girls' record label, Damon Records, she had been to a girls' rock camp in Murfreesboro, Tenn., where she served on a music and activism panel, and later became a stage manager. She also traveled to Portland, Ore. and observed the inaugural girls' rock summer camp, Rock 'n' Roll Camp for Girls, as part of research for her thesis. In 2007, she began her work on Girls' Rock Camp (ATL), and the program opened its doors to about 20 girls last summer. Now, the camp is her top priority.

"This year," she says, "I replaced 'gainful employment' with this. Someday, I hope this will become gainful employment."

Another director and founder of the camp, Heather Gibbons, explains that they are currently in the process of becoming a full non-profit organization. She hopes to someday have a permanent facility for the camp, and more than one session a year. In the meantime, volunteer coordinator Heather "Hez" Stalcup says, the rock camp runs on the support of local businesses (everything the camp uses is donated) and the hard work of about 40 female volunteers. The purpose of only bringing in female volunteers is not to exclude men or create any negativity toward them, but to really show young girls how strong and powerful women can be; there's a difference between a young girl hearing a man tell her she can be a rock star and a young girl seeing a woman in the position.

Although the camp is clearly centered around rock 'n' roll, music is just a means of empowerment. The main goal of the program is to provide girls a space where they can express themselves and feel comfortable in their own skin. "Rock 'n' rollers are weird," Singer admits, and says the camp is about accepting and embracing that individuality, which can be difficult for anyone, but is often particuarly challenging for teenaged girls. Every day starts and ends with a group assembly, where the girls can all come together to talk and discuss their own achievements and those of their fellow campers. In addition to daily music lessons and band-practice time, the campers' schedules include workshops on making zines, learning self-defense and understanding the media's representation of women. The girls spend their lunch breaks watching performances by and having Q&A sessions with local bands featuring strong women.

"It's not what you think of when you think of summer camp," Singer says. "But we hope it becomes something you imagine when you imagine summer camp."

For many girls, this is starting to be the case. About 14 of last year's campers returned this year. Julia Denniss, a guitarist for the Rock Camp group Quothe the Canary, says that this summer was her first at the camp, but she's already excited about the idea of coming back again. She's beaming, displaying missing teeth and braces as she shows off the Quothe the Canary t-shirt she designed with her bandmates (each of the nine groups designed a shirt to wear during their performance) and explains that her band wanted to reference the famous Poe line in their title but thought raven was "too goth-sounding," and settled on canary after rejecting kiwi, puffin and bluebird. She talks about how much other campers have improved in the past week and says that she can't wait to see inside the Variety Playhouse because she knows her mom has seen some great concerts there.

A few minutes later, when volunteers finally do usher the girls into the theater, they're awestruck. It's a big stage, much bigger than the one in the gym of Atlanta Charter Middle School, which served as Rock Camp HQ for the week with homemade cardboard signs about punk and metal spicing up the existing hand-painted murals in the dimly-lit hallways.

A few campers are starting to get nervous, but some are too excited to be anxious. "I'm not nervous," one says to her friends. "I just need to hear some music!" And once sound check officially starts, the girls snap into their professional mode. The lead singer of Paranormal, a tiny girl with patches of bright orange in her hair and skull-and-crossbone suspenders, steps up to the microphone and pulls it down several inches so that she can speak into it. "It smells good," she comments. "It's a nice-smelling microphone." But the blossoming musician in her comes out just seconds later when she praises the quality of the equipment and how nice and clear the mics make her voice sound.

As they perform in front of the audience at the Variety, it is evident that all of the camp's lessons have sunk in. They carry themselves with confidence, but it's their songs that really show their mettle. "We're super-super girls," goes the chorus of the song by Crossbones. "We don't have to change ourselves," proclaims 500. The rest of the groups (Akatsuki, Defiance, The Unknown, Vinlandsaga, Paranormal, Quothe the Canary and On The Edge of Ridiculasz [of which Paste editor-in-chief's daughter is a member]) echo these sentiments.

After the last band plays, all the campers and volunteers crowd onto the stage for the final performance: a high-energy rendition of the official camp song, "Come On and Rock Camp." They're all jumping, all screaming, all declaring, "You've got a voice so let it all out!" Many of the volunteers are wearing Girls Rock Camp (ATL) t-shirts with the phrase "Because being a girl is hard core" scrawled across the back. In the moment, it seems there could hardly be a truer statement.

Others Tagged With