Goodie Mob Announces Sept. 19 Reunion Concert in Atlanta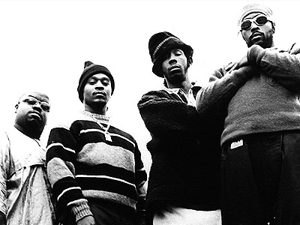 Before Cee-Lo Green exploded into the public consciousness and iPod commercials everywhere as part of Gnarls Barkley, he was one of the founding members of Atlanta-based hip-hop act Goodie Mob (The Good Die Mostly Over Bullshit.) Together with OutKast and Parental Advisory, Goodie Mob formed the legendary Dungeon Family rap collective. The group went on something of a hiatus after their 2005 album Livin' Life as Lumberjacks, and officially reunited in 2007 with the promise that another album was on the way. Well, they're making good on that reunion, because we've just received word of a Goodie Mob reunion show in Atlanta, scheduled for Sept. 19.
The reunion was teased last week in Atlanta alt-weekly
Creative Loafing
, and we've just gotten more specifics via e-mail from the show's organizer. It's called "Remember Atlanta: Goodie Mob Reunion," and there's a possibility that the majority of the Dungeon Family will be showing up for the event. No venue has been announced yet, but for those who can't attend the event will also be broadcast live on the internet. We'll try not to get
too
giddy while we wait for more info, but the thought of Goodie Mob
and
OutKast at the same show is a heady brew indeed.
Related links:
Others Tagged With