Josh Homme, Dave Grohl and John Paul Jones in the Studio, Finally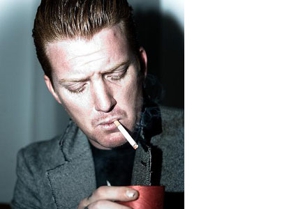 Josh Homme sure hasn't lost his art of keeping a secret. We know about him producing the upcoming Arctic Monkeys' record. And we know about his long-rumored supergroup with Dave Grohl and John Paul Jones. But since the story broke back in 2005, Homme has let very little slip.

But as Antiquiet.com reports, the group has started recording together and are currently in a studio somewhere in the Los Angeles area. Homme's wife, Brody Dalle of Spinnerette, spilled details (kind of). "I'm not at liberty to talk about it … but I think [the project] is pretty fucking amazing," she told Antiquiet. "Just beats and sounds like you've never heard before."

In separate Homme news, in an interview with Rock-A-Rolla, Ipecac Recordings boss Greg Werckman divulged that Homme is working on a another "top secret" project and hopes to enlist some friends to help out. Sounds like another Desert Sessions, if you ask us.

"He's trying to get a lot of people involved in it, too, as a matter of fact he's trying to convince Mike Patton to go out to the desert but Mike hates the desert," Werckman says.

Patton is currently hitting the festival circuit across the pond with a newly reformed Faith No More. Insert obligatory fish jokes.

Related links:
News: Arctic Monkeys meet Queens of the Stone Age?
QOTSA.com
Ipecac.com

Got a news tip for Paste? E-mail news@pastemagazine.com.

Others Tagged With