Matt & Kim Declare "This is our Summer!" With Shows Aplenty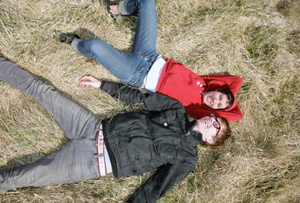 Some things just go together well in the summertime: lemonade and hammocks, team sports and cookouts, and Matt Johnson and Kim Schifino. Yes, the adorably indistinct line between Matt & Kim's music and relationship is perfectly apropos of the season, which is why they're declaring "This is our summer!" and hitting the road in July to sow their infectious marriage of drums and Casio keyboards across North America.
The duo's clarion call recently echoed off of brownstones and fire escapes everywhere:
"Summer is here and something about it just seems to take years off.," the
mission statement
on the duo's website reads. "You feel 18 again while biking with friends at night, swerving on and off the sidewalk down Kent Ave, or driving to Rockaway Beach with the windows down and your crappy stereo turned up. But the best part is while you're turning those years back you can shed off some of that bullshit that's been building up on your shoulders and weighing you down. Just take everything a few steps back, put on some music that you hold close, and make this summer all about you."
Sound advice if we ever heard it. Matt & Kim kick off their tour in July with some free shows for the Bacardi B-Live tour, a free concert at New York City's Pier 54, and some festival dates and general merrymaking into October:
July
1 - Asheville, N.C. @ Emerald Lounge
2 - Charlotte, S.C. @ The Forum +
3 - Atlanta, Ga. @ Opera +
4 - Orlando, Fla. @ House of Blues, Lake Buena +
7 - Philadelphia, Pa. @ First Unitarian Church
9 - New York, N.Y. @ Pier 54 (Free!)
10 - Austin, Texas @ Austin Music Hall
11 - Dallas, Texas @ House of Blues
18 - Chicago, Ill. @ Pitchfork Music Festival
August
27 - Los Angeles, Calif. @ El Rey Theatre %
28 - San Diego, Calif. @ Street Scene 2009
29 - Visalia, Calif. @ Howie & Sons Pizza & Beer Parlor %
30 - San Francisco, Calif. @ Outside Lands Music & Arts Festival
September
1 - Arcata, Calif. @ Depot %
2 - Portland, Ore. @ Hawthorne Theatre %
3 - Vancouver, B.C. @ Richards on Richards %
4 - Victoria, B.C. @ Sugar %
5 - Seattle, Wash. @ Bumbershoot
7 - Salt Lake City, Utah @ In The Venue %
8 - Denver, Colo. @ Bluebird Theater %
10 - Minneapolis, Minn. @ Triple Rock Social Club %
11 - Madison, Wisc. @ Majestic Theatre %
12 - Chicago, Ill. @ Bottom Lounge %
14 - Detroit, Mich. @ Magic Stick %
16 - Washington D.C. @ Black Cat %
29 - S. Burlington, Vt. @ Higher Ground Showcase Lounge
30 - Montréal, Que. @ Pop Montréal 2009
October
2 - Buffalo, N.Y. @ Soundlab
+ Bacardi B-Live Show
% w/ Amanda Blank
Related links:
Others Tagged With