Michael Bay, DreamWorks Get Film Adaptation Rights to James Frey Sci-Fi Book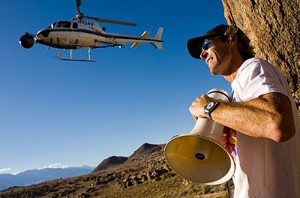 Although the book has not yet been published, science-fiction novel I Am Number Four, co-authored by James Frey, is set to become a film, and it's got big names behind it. Given Michael Bay's taste for big-time special effects, DreamWorks' talent for creating box-office brilliance and Frey's penchant for touching (yet not always wholly truthful) stories, it's likely to gather hype in the coming months.
I Am Number Four
is said to be the first book in a planned six-part series, though the co-author partnered with Frey still has not been confirmed. According to
The Hollywood Reporter,
the deal made among DreamWorks, Bay and Frey is rumored to be in the high-six figures.
The plot admittedly sounds well-suited for a big budget: Nine alien teenagers land on Earth, attend high school and dodge the enemy who destroyed their former planet. With DreamWorks' Steven Spielberg already reportedly excited about the film, the plot can only thicken from here.
Others Tagged With