Michael Jackson's Victory Tour Glove to be Auctioned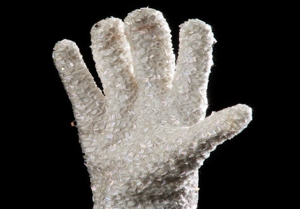 In 1984, Michael Jackson swept the nation with his Victory Tour. He took the stage in his "Suit of Lights," which included that famous (and possibly infamous) sparkling white glove. Created especially for him by designer Ted Shell, the glove glimmered with beads, rhinestones and 50 tiny light bulbs, and became one of the most well-known symbols of the King of Pop. Now, thanks to Profiles in History, which recently announced plans to auction off the glove, MJ super-fans have the chance to own this iconic piece of memorabilia.

Shell made two gloves to be used on the tour. Jackson gave one back to him in 1986, and Shell decided to put it up for auction, complete with a letter of authenticity signed by himself and Judie Mallen, who installed the gloves' lights. Profiles of History will auction off other memorabilia at the event as well.

For those who are interested in the glove but don't think they have quite enough cash to make a competitive bid on Oct. 2 and 3, the item will be on display for all to see at Comic-Con in San Diego, Calif. later this month.


Others Tagged With