Nine Inch Nails Tour Dates, Alleged Retirement Announced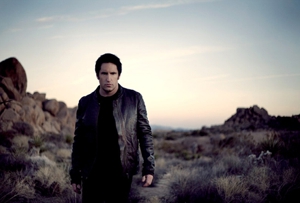 Call it the terrible tale of Trent Reznor. First the Nine Inch Nails frontman said that the band was going to stop touring for a spell. They scrapped that idea, and then Reznor produced more than a few heated jabs at social networking and the heavyset metalheads who dwell therein. Then he said that Bonnaroo would be the last U.S. show for Nine Inch Nails. Then he jumped BACK on the Twitter bandwagon with a "fuck you trolls, I'll tweet if I want to." So forgive us if we're just a little gun-shy on taking Trent at his word, but he recently announced a batch of for-reals farewell shows in Chicago, Los Angeles and New York this August.
Of the band's previous "farewell" tour, Reznor wrote on the NIN website that "many shows were in daylight - it just didn't feel right to end NIN that way." And Reznor is all too ready to pre-empt snarky critics the blogosphere over: "These should be cool, unusual and unique shows and I hope you come out. This is it."
August
22 - New York, N.Y. @ Bowery Ballroom
23 -
New York, N.Y. @ Webster Hall
25 -
New York, N.Y. @ Terminal 5
26 -
New York, N.Y. @ Terminal 5
28 - Chicago, Ill. @ Aragon Ballroom
29 -
Chicago, Ill. @ Aragon Ballroom
September
2 - Los Angeles, Calif. @ Hollywood Palladium
3 -
Los Angeles, Calif. @ Henry Fonda Theater
5 -
Los Angeles, Calif. @ Wiltern Theatre
6 -
Los Angeles, Calif. @ Echoplex
Related links:
Others Tagged With