Is Orphan an Anti-Adoption Screed?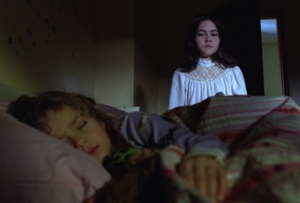 Orphan
opens today. You know the one. Yuppie parents, devastated by a miscarriage, adopt a young, faux-sweet little girl who immediately begins to plot their demise. ("I don't think Mommy likes me very much," she coos in the trailer.) Since there are no other major horror movies on the market, it seems poised to sell its share of tickets this weekend.
The movie falls into that most persistent canon of horror, the Bad Seed nightmare. There are a lot of them—The Omen, The Good Son, The Unborn. The idea of children with a hunger for torment may be sick, but the demonic little kid has become the cliché of clichés in this genre, interchangeable with a masked guy wielding a knife.
Orphan
, though, has struck a particular nerve. Because the little girl at its heart is adopted, specifically at an older age, some adoption advocates have decried the movie as a promotion of the idea that there's something wrong with older orphans, that they're somehow tainted. The most prominent of these pieces, in
The Daily Beast
, dips into the history of Romanian dictatorship and American adoption to offer a series of strident attacks against the movie, damning it as "lazy, irresponsible, and cruel."
Guess what else, though? The writer of the piece, Melissa Fay Greene, makes it clear she has not seen the movie. Sigh. She also refers to the movie's marketing as a "PR campaign," which borders on self-parody. She thinks the ads trade in a currency of stereotypes, but come on. Watch the trailer embedded below. Does this girl strike you as someone who serves as a stand-in for adopted kids in general?
Other than ignoring the crucial distinction between a movie and its marketing team, Greene, like other protesters of movies like this, seems to be under the extraordinary impression that horror movies promote a bottom-line allegory, some vague moral imperative. This is misguided. Horror premises are intended to be superlative; to take such a setup on its face is to devalue the very thing it's designed to do. It expressly targets latent social tensions and charges at them without regard, the idea being that movie audiences respond to blunt, seedy provocation. Which, frankly, they do. With few exceptions (Jaws comes to mind), horror movies do not create or enforce prejudices; they play with them, and it's oftentimes to subversive effect.
Think about it. Does The Exorcist throw down for the devil because a priest dies in the end? Does seeing Wrong Turn mean you'll never drive through West Virginia again? For a more recent example, should every mortgage broker who eschews conscience to bolster her bottom line be dragged to hell?
Well, maybe, actually, but you get the point. As it happens,
Orphan
has a
hysterical 11th-hour plot development
that effectively nullifies any protest anyway. But as long as there are movies like this, there will be people who seize on them in service of some broad tirade that inevitably goes further than the movie does. Lazy and irresponsible, indeed.
Related links:
Others Tagged With