Patton Oswalt Tours Following Album and Movie Releases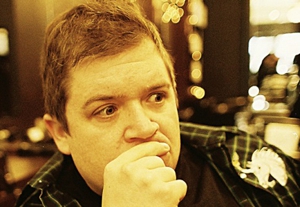 August and September are shaping up to be banner months for Comedian of Comedy Patton Oswalt. In between bouts of the usual wackity-schmackity doo, he'll star in Big Fan, one of Sundance 2009's surprise hits. The flick is currently slated for an Aug. 28 release, mere days after his fourth standup album, My Weakness Is Strong!, hits the streets.
MWIS!
will see an Aug. 25 CD/DVD release on
Warner Bros. Records
. The album's
cover
is a parody of everyone's favorite fundamentalist-Christian comic artist
Jack Chick
, which probably means we're in for another helping of gleeful irreverence from a man who self-identifies as a "stone-cold atheist."
And just to make sure he doesn't have a single spare moment of respite in between
finishing his book
and promoting both his movie and album, Oswalt has scheduled some mid-September shows, tickets for which have
just gone on sale
:
September
12 - Minneapolis, Minn. @ State Theatre
13 - Portland, Ore. @ Newmark Theater
18 - Seattle, Wash. @ The Moore Theater
Related links:
Others Tagged With