Pixies Announce Doolittle Tour, Minotaur Box Set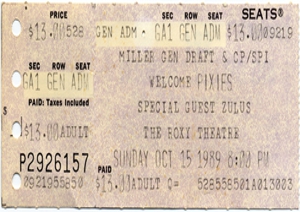 The Pixies have been playing games with our hearts since they originally disassembled in 1993, reaching a fever pitch five years ago with those rumors of a reunion, new material and multiple tours. Now, just months after the Pixies began to make appearances on the festival circuit, they've announced a European tour coupled with a box set release.
The
Doolittle
Tour will celebrate the twentieth anniversary of the 1989 album of the same name, where you can find classic Pixies gems like "Wave of Mutilation," "Here Comes Your Man" and "Debaser," just to name a few. According to the press release, the band will also have a couple unexpected treats heading the audience's way. "The band is brainstorming on
Doolittle
-related surprises that will also comprise the night's entertainment," it says. Considering the fact that a plethora of Pixies songs touch on oft-ignored subjects like Biblical bloodshed, unidentified flying objects, aliens, incest, geological anomalies, conspiracy and more, we're not too sure what that means. But we're down.
Not satisfied with merely a huge overseas reunion tour, the Pixies will also release a luxury collector's box set that includes material spanning the Pixies' twenty-year career.
Minotaur
is currently available for pre-order and will begin shipping out in October.
Catch the Pixies' wave of mutilation as they shred their way through Europe this fall:
1
- Dublin, Ireland @ Olympia
2
- Dublin, Ireland @ Olympia
4
- Glasgow, Scotland @ Scottish Exhibition and Conference Centre
6
- London, England @ Brixton Academy
7
- London, England @ Brixton Academy
8
- London, England @ Brixton Academy
9
- London, England @ Brixton Academy
11
- Frankfurt, Germany @ Jahrhunderhalle
13
- Amsterdam, Holland @ Heineken Music Hall
14
- Brussels, Belgium @ Forest National
15
- Paris, France @ Zenith
Others Tagged With