A Sample of Free Summer Samplers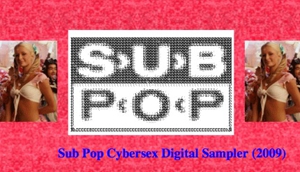 While some of us may disagree on whether or not our summer soundtracks include that one super-catchy new Grizzly Bear song, we can probably all agree on one thing: Free music, like free ice cream and free concerts, is even more awesome in the summer. So when record labels and other benevolent souls began offering free samplers to anyone with basic mouse-clicking motor skills, simply because it is that special time of year when the Earth's axis is inclined toward the sun, we felt it was our duty to share such wares with you. Below, then, are four of the internet's best free musical offerings. Are we missing some? Share the love, and let us know in the comments.
Sub Pop Cybersex Digital Sampler: With a Geocities-reminiscent website that's almost more entertaining than the sampler itself, Sub Pop's "Cybersex" hits up Fleet Foxes, Handsome Furs, Tiny Vipers and more for delectable summer listening, and even ends with a gratuitous nod to Flight of the Conchords. Who needs Web 2.0 when you've got the ASCII-o-Matic? Once your retinas adjust to the malleable, dancing guitars and Paris Hilton's bouncing, ahem, pigtails, download the Not A Virus! sampler for a pretty diverse range of Sub Pop's current finest.
Arts & Crafts Sampler, Vol. 6
: Selections from A&C staples, like Andrew Whiteman's Apostle of Hustle and Canadian supertroupe
Broken Social Scene
, are paired with the label's young bloods; all you have to do is give them your e-mail address. The sampler includes much-awaited tracks from forthcoming fall albums from artists like the Hidden Cameras, Amy Millan, Zeus and Still Life Still. There's even a track from Charles Spearin's oddball "Happiness Project," wherein Spearin pairs the intonations of an interviewee's voice (answering the question, "What makes you happy?") with quiet instrumentation. Not exactly thumbs-tapping-on-the-steering-wheel material, but intriguing to say the least, and in keeping with the eclectic lineup on the A&C sampler.
Nylon
Summer Playlist 2009
: Although the trendsters at
Nylon
may confound us with their
cover choices
from time to time (we swear this article isn't one big subliminal Paris Hilton endorsement), they've got our backs this summer when it comes to music.
Paste
favorites like
Passion Pit
,
Phoenix
,
Little Boots
and
Of Montreal
all grace the "soundtrack to your summer" as deemed by
Nylon
. Best to blast it poolside while sporting your classy American Apparel lamé
zipkini
, you filthy hipster.
Lollapalooza Sampler
: Here's the deal. A ticket to Lollapalooza will set you back about $200. A sampler of Lollapalooza music? Free. While kicking back in your easy chair and zoning out to some
Deerhunter
with a bag of Doritos at your side may not be equivalent to rocking out in Chicago's Grant Park alongside 80,000ish other revelers, at least it's completely without cost. That's about the only perk to staying at home the weekend of Aug. 7, aside from, perhaps, the ability to use your own restroom at your own convenience. Whatever the case may be, Lolla's offering a free downloadable sampler featuring a few of the lineup's artists, including
Langhorne Slim
,
Bon Iver
, Joe Pug and
the Raveonettes
.
Others Tagged With