Flint, Michigan to Host Rock Poster Exhibit This September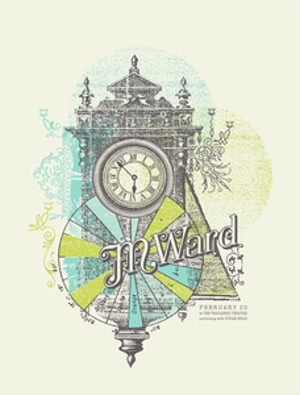 From the widely-celebrated psychedelic art that was birthed from the Fillmore in San Francisco to the hand-made posters plastered on the wall at your favorite local venue, the gig poster has always been intricately woven into the fibers of the rock and roll fabric.
John Shipman understands the appeal of vintage rock posters—the bright colors, the familiarity and, of course, the timeless music that served as their inspiration. But Shipman, who is the associate director of the University of Maryland's art gallery, readily admits that his real passion for posters lies in the new.
"Everyone knows the older posters from the '60s and '70s, but I don't think people are aware that there has been a whole resurgence of gig posters," he says. "There are more of them now than ever before, and they're actually better, if you want my opinion."
Shipman, who curated a contemporary rock poster exhibit last winter for the University of Maryland, is currently working on a similar exhibit for the Flint Institute of Arts in Flint, Mich. So far he's gathered an impressive roster for the show— the exhibit of contemporary posters will feature more than 30 artists and collectives, many of whom crank out some of the best rock and roll graphic designing of our time (
Seripop
,
The Small Stakes
,
Zeloot
, to only name a few).
The exhibit, appropriately titled,
Graphic Beauty: Contemporary Rock and Roll Posters,
will be shown in conjunction with an exhibition of vintage rock and roll posters pulled together by the Flint Institute of Arts. The 80-plus posters, taken from the Bill Graham collection, will include psychedelic art luminaries like
Rick Griffin
and
Stanley Mouse
, but also lesser-known works from New York and Boston that departed from the famous psychedelic look.
Check out a few images from the contemporary exhibit, which runs Sep. 26 to Nov. 8.
"Blitzen Trapper" by Zach Hobbs
"Raveonettes" by El Jefe Design
"Moe" by Hero Design