Snitches Get Stitches: Full-Contact College Quidditch Sweeps the Nation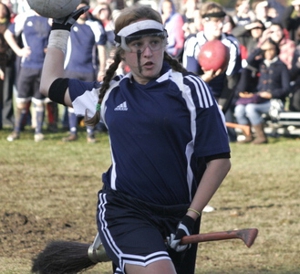 When any creative project starts out small and humble and then vastly expands, those involved face the proverbial challenge of staying grounded. Lucky for the college co-eds playing a now widely popular, real-world version of Quidditch (based on the magical airborne sport found in the Harry Potter books and films), this isn't really a concern. Despite their nearly seamless adaptation of the game from page to pitch, they still haven't sorted out that whole flying thing.
On a figurative level, however, these imaginative athletes should be described as anything but down-to-earth. Donning capes on their backs and hand-made broomsticks between their legs, these spirited undergrads deserve all the flight puns they've been awarded over the years in major media coverage. After all, what began as a shoestring operation of pick-up games outside a rural Vermont college dorm has taken off with the formation of the Intercollegiate Quidditch Assocation (IQA), which now boasts more than 160 participating colleges across the country. And as Intercollegiate Quidditch approaches its fifth terrestrial season, goals for the future are only getting bigger.
Brewed in the Co-Ed Cauldron
The first incarnation of IQA Quidditch took shape in fall 2005 at Vermont's Middlebury College when then-freshman Xander Manshel and some dorm friends started playing informal games using the rules Manshel had recently adapted from the J.K. Rowling series. Games were modest back then: Players galavanted across the green with towels for capes and garden-variety household brooms for symbolic levitation devices. When the students staged their first World Cup competition (albeit among only Middlebury intramural teams), the coveted trophy consisted of a gold-painted bottle of
Popov
, the cheap vodka that likely soiled the players' mixed drinks on the weekends, with a wizard on top.
"College students are classically always into trying new, weird things, and I think this fits into those criteria," explains Alex Benepe, a founding member and Quidditch commissioner since fall 2006.
The sport removed its training wheels by the 2007-2008 academic year with the formation of the Quidditch Committee at Middlebury, acquisition of better equipment and intercollegiate expansion. In 2008, with their lighter (and more wizard-like)
Alivan's
brooms in tow, players from Middlebury embarked on a Northeast tour during their spring break, playing demo matches at Bard College, University of Pennsylvania, Vassar College, Columbia University, Amherst College, Dartmouth College and Princeton University, where ESPN, MTVU and CBS covered the sport. At Amherst, CBS weatherman David Price did an endearing
live-game segment
on the Early Show, in which he actually played. With the development of an official rulebook,180 other schools showed interest in forming teams within a month of the trip.
So how exactly does one play the
Muggle
version of Quidditch? As in the book, each team has seven players, but earthly competitors must get used to the difficulty of running with a broom between their legs (as well as throwing and catching one-handed). There are three chasers who toss around a quaffle (a deflated volleyball) trying to score into three elevated (hula) hoops which the opposing keeper defends. Then, there are two beaters who throw bludgers (deflated dogdeballs) at opposing team members; if players are knocked down, they must drop any ball in hand and run around to their goal area and back to account for the time that would be lost in falling from the sky. Lastly, there is one seeker per team (the position of HP himself), whose job it is
to catch the snitch
, ending the game.
Now, this is where you'll find earthbound Quidditch at its most creative:
An actual person
embodies the snitch, which is a malevolent, flying, golden ball in Rowling's version. This player, typically a lanky and nimble cross-country runner clad head-to-toe in yellow garb, has full domain of the campus, darting on and off the playing field as he or she chooses. The snitch has arguably become the most humorous part of the game, making a point to taunt other players and pull off various hijinks come gameday. Snitches have been known to tackle, do handstands, climb onto dormitory balconies, go on bagel runs (only to return to the field and peg players with the breakfast food) and even jump into nearby ponds in order to evade seekers trying to snatch the tennis-ball-in-sock hanging from their backsides.
"In soccer or basketball, you don't have the jester of the game," says David Bridgman-Packer, 19, a rising Vassar sophomore and Quidditch co-captain. "The snitch gives the crowd a great show."
The flesh-and-blood snitch, along with the game's other fantastical elements, attract a certain kind of fun-loving, open-minded student to the field. "I don't think people who play Quidditch are the kind of people who take themselves super seriously," says Kori Lopreore, a rising Lousiana State University (LSU) senior and captain. "They're playing a real-life version of a fanasy book game. They want to have a good time."
What's more, these Quidditch-playing students, roughly within the 18-22 bracket, were at the prime age to enjoy the novels when they first arrived in the late '90s. "I'm not sure when I started reading, but I was definitely one of those kids who grew up as Harry grew up. You were able to relate to him as a kid and as he became a teenager," Bridgman-Packer says. It only makes sense that they grew up to make the fictional sport a reality. But the game doesn't require extreme
HP
devotion; players range from pedestrian to obsessive fans. In fact, the physically demanding, rough-and-tumble game has garnered its share of serious athletes and non-
Potter
readers, by the merits of the sport alone.
"Because it's related to
Harry Potter
, it's unavoidable that there's going to be some amount of geekdom tied to it," Benepe explains. "I think at first the serious athletes are turned off by it, but I think you're definitely seeing a trend toward greater athleticism." Many teams boast former or current lacrosse, rugby, football and soccer players, among other athletes. Quidditch has become known as a full-contact sport with few rules other than no punching, head-locking or attacking from behind. And with little protection other than lacrosse goggles, things can can get pretty ugly.
Bruised ribs, broken ankles, skinned knees (and perhaps tarnished dignity) are just a few of the injuries incurred on the Quidditch field. "I was once stabbed in the side with a broomstick, which was not pleasant. [Also], one person was concussed, which was not our proudest moment," recalls Lopreore of his experiences with the LSU team. "You are just running so much that it's not feasible to have a lot of equipment or padding on."
Still, the light-hearted atmosphere of the game typically keeps overly violent tendencies in check. "When you're running around on a broom, it's just so wonderfully silly that you can't take the sport too seriously, so you can't get too worked up about attacking other people," Bridgman-Packer says.
As the 2009 season nears, Intercollegiate Quidditch faces changes, but ultimately seeks growth and staying power. The 2008 season featured the second Intercollegiate World Cup, and at its largest and most elaborate. It featured 12 teams including University of Washington, and Canada's own McGill University. Since then, other colleges have taken it upon themselves to organize competitions.
Most recently, certain IQA players were featured in a
MTV-affiliated commercial
for the new
HP
film,
Harry Potter and the Half-Blood Prince.
Although founders such as Benepe and Manshel have recently graduated, interest will likely continue in their absence as freshman join established teams yearly and new teams pop up around the country. Benepe, whose role in Quidditch has become more like that of a master of ceremonies in recent years, hopes to see the IQA leap the copyright boundaries it currently faces. "I'm going to talk to Warner Brothers to see what can be done in the future. I'd like to see it become a legit national organization that could draw in revenue," Benepe says.
"When Xander first told me about it, I thought it was the dumbest idea. I didn't think it would work at all," he recalls. "I think the fact that I'm totally in love with it now gives me the conviction that it could grow."
Many teams boast former or current
lacrosse
, rugby, football and soccer players, among other athletes.
Others Tagged With