The Dodos Take Leak in Stride, Bump Release Date, Stream Time to Die for Free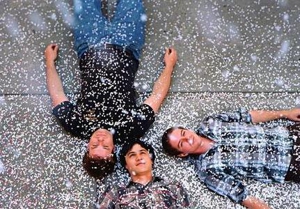 The clitter-clattering experimental drums and freaky guitar strums mastered by San Fran's The Dodos could be best likened to a sonic back massage, both soothing and awakening in their rhythmic explorations. It seems that the band has turned to its own musical brand of therapy in the wake of an album leak. The band's third record, Time To Die, originally slated for September release, has found its way to the web in recent days. In lieu of any hissy-fittage, the guys have taken a proactive, multi-pronged approach to their dilemma. They've pushed forward the album's digital release to late July and have formed TimeToDie.net, a special site on which they've posted a high-quality stream (at 320 kbps) of the album, a free download of the single "Fables" and a video statement on the whole situation.
The video features a mildly peeved, but ultimately tempered Meric Long explaining with delightful hand gestures all things
Time to Die
. Mostly, he seems to be holding back laughter as bandmate Logan Kroeber, whose image appears to be reflected in a full-length mirror, looks on and nods in approval. An album leak sucks, but at least these guys know how to have a sense of humor about it:
Time to Die
will see its digital release jump up to July 28 (U.S.) and July 27 (U.K.), but its physical release dates will remain Sept. 15 (U.S.) and Aug. 31 (U.K.). The digital download will be available on Amazon MP3 exclusively during the first week and elsewhere beyond that point, likely for under four dollars.
Others Tagged With