The Swell Season Announces Follow-Up to Once Soundtrack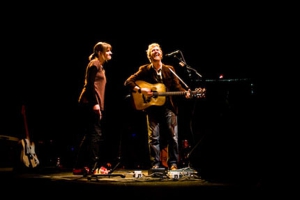 Glen Hansard and Marketa Irglova made headlines when their love story, Once, earned rave reviews and when "Falling Slowly" got them a statue of a shiny little man named Oscar. Hansard and Irglova, known on the musical stage as The Swell Season, have recently announced a follow-up album, Strict Joy, to be released Sept. 29 on Anti-.

The album title comes from a poem by James Stephens, who shares Hansard's Irish heritage. Hansard connected with his roots in another way while putting together Strict Joy by calling upon his other band, The Frames, to provide some of the violin, guitar and bass on the album.

Tracklist:

1. Low Rising
2. Feeling the Pull
3. In These Arms
4. The Rain
5. Fantasy Man
6. Paper Cup
7. High Horses
8. The Verb
9. I Have Loved You Wrong
10. Love That Conquers
11. Two Tongues
12. Back Broke

Related links:
News: Hansard and Irglova's Once Heading to Broadway
1000 Words: The Swell Season - Agganis Arena - Boston, MA
Ctrl-V: Go See Once More Than Once!


Others Tagged With